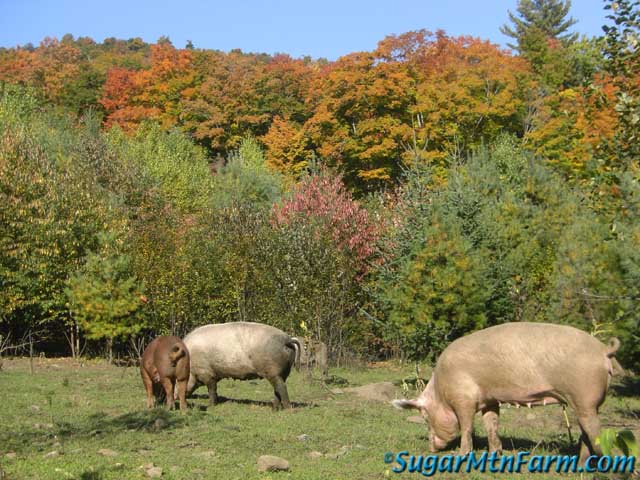 Sows Grazing in North Field
The recent rains are pulling down the fall foliage leaves but this is what it looked like just before the down pour. Sugar Mountain where our sugar bush hangs on the eastern slope is in the background.
New Born Piglets in North Home Field
We have about 30 pigs leaving the farm
headed west
this week in addition to our weekly pigs to market. They were quickly replaced with 51 piglets born to five sows in the north home field farrowing paddock. One pregnant gilt still to go in that group.
Sow with Piglets in North Home Field
The sows separate and build their own
nests
of straw they harvest, sticks and stones before
farrowing
, that is to say giving birth. Then after a few days to a week or so they join in cohorts, sharing nursing and babysitting of piglets while others graze. Having the pigs in sync is important as these behaviors are primarily instinctual and hormonally governed.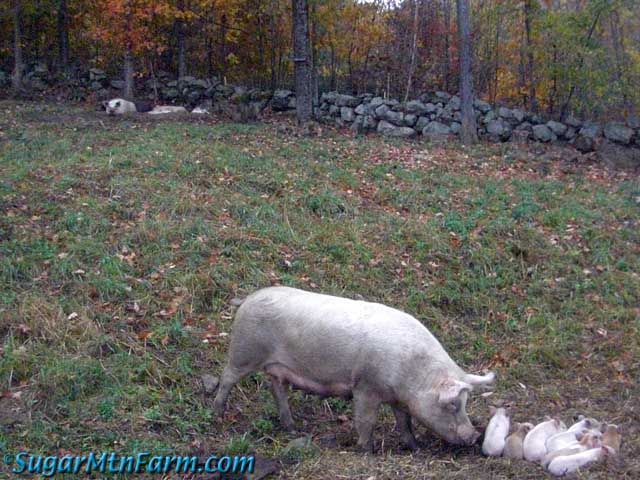 North Home Field Sow with Piglets
This sow farrowed in the middle of the field which is rather unusual. Typically they farrow under the trees or brush which affords the piglets more protection. But, despite her "
Think Different
" solution she still is raising twelve healthy piglets so I won't argue with her judgment.
Grower Pigs and Geese in upper South Field
Meanwhile, back in the south field these grower pigs as exploding in size with the bounty of fall. Our fields are still quite green, unusually late into the year and much appreciated. Once winter hits the pigs will be eating hay to replace pasture and growth will slow down some as the hay is not as nutritious as fresh pasture and some calories go to keeping warm through the winter.
In the background you can see our flock of ten geese which have grown from the three our postwoman Annie gave us several years ago.
Outdoors: 48°F/47°F Partially Sunny
Tiny Cottage: 66°F/62°F
Daily Spark: I say to the young: Do not stop thinking of life as an adventure. You have no security unless you can live bravely, excitingly, imaginatively. -Eleanore Roosevelt