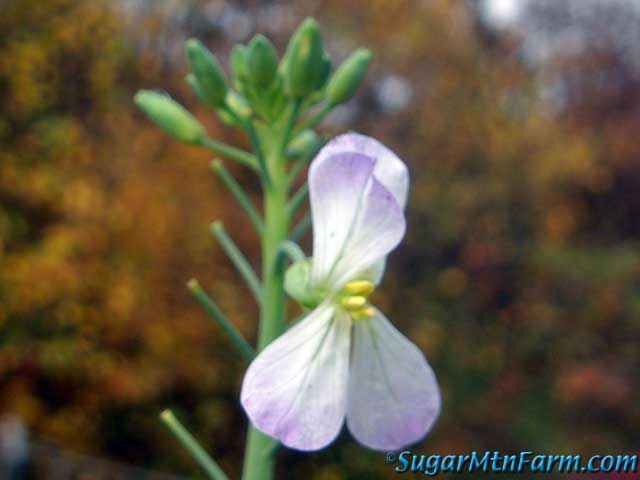 Brassica Blooming
I think this is a broccoli but I'm not sure as all I took was a photo of the flower rather than a taste. Amazingly it is still blooming in late October.
If anyone can identify it I can add the scientific name below the photo… A challenge.
Our fields were fields long ago but then over the past century they grew back to forest when farming was mostly abandoned after the mini ice age of the mid-1800's. The man we bought our land from back in the 1980's from was born on the land over 100 years ago. He relates stories of haying virtually all of the land, that it was all open pasture when you was young, before he went off to fight in the Great War, the first one.
In the late 1990's and '00 (aughts) we cleared some of the fields back to their original stone walls, harvesting the nearly century old mature timber and leaving line trees. We planted soft grasses, legumes (alfalfa, clover, trefoil, vetch, etc), brassicas (kale, rape, broccoli), millets, small grains, amaranth, chicory and other forages. I favor things that come back on their own year after year so I we don't have to keep planting – perennials and annuals that self-reseed. Now we just spot seed a little as need each year.
This brassica is an example. Their roots survive under our deep early snows and they cast seed every year as well.
Outdoors: 46°F/41°F 1″ Rain
Tiny Cottage: 64°F/58°F
Daily Spark: When someone says a bumble bee can't fly and I observe a bumble bee fly by I think to myself, "they need a better theory."