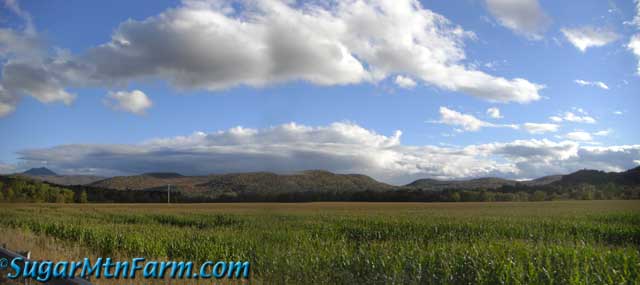 Camel's Hump Mountain over Richmond Valley Hay Field
That is Camel's Hump Mountain in the distance on the left. It is singular. It is not a verb. Alternatively it has been called the Resting Lion, according to
Wiki
. This is the north face. We can see the other side from Sugar Mountain nearly an hour to the south.
Yes, that really is a recent photo and that really is still green corn. Most corn is brown or cut but I saw some fields of green corn, probably for silage, when I went off the mountain on the delivery route this Friday.
Click the image to view the much larger version of the pan and see if you can figure out what I changed. Something's different in this Columbus Day weekend fall foliage panorama…
Outdoors: 56°F/34°F Sunny
Tiny Cottage: 65°F/59°F
Daily Spark: That is Camel's Hump Mountain. It is a noun, not a verb.