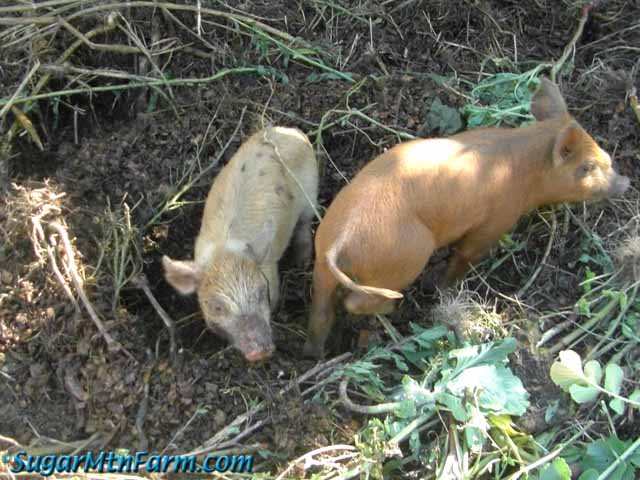 Miner and Digger
Most of our pigs don't root particularly much contrary to the classic myth of the pig. Rather they tend to graze the easy foods at the surface like grasses, clovers, brassicas and other forages. I've written before about some ideas of why in
Root Less in Vermont
. These two piglets are the exception to the exception of the myth. They root a lot. Regular robo-rooters….
I haven't figured out why they root so much. I've tried adding kelp to their whey to see if perhaps they are not getting enough minerals. These two are in the small cottage hospice paddock as they kept coming out onto the driveway. I had noticed that even when these two were out in the field they rooted more than other piglets. Other piglets who have had a stay in the hospice haven't rooted this much. So it isn't situation or diet. One of them is a Tamworth x Mainline and the other is a pure bred Tamworth so it isn't likely to be genetics.
Will and Ben just secured a space out in the south field where they can be for a week to re-home them and then we'll try them out in the field again to roam with the sounds of other piglets.
Outdoors: 67°F/49°F Sunny
Tiny Cottage: 65°F/60°F
Daily Spark: Single Sock Seeks Mate.