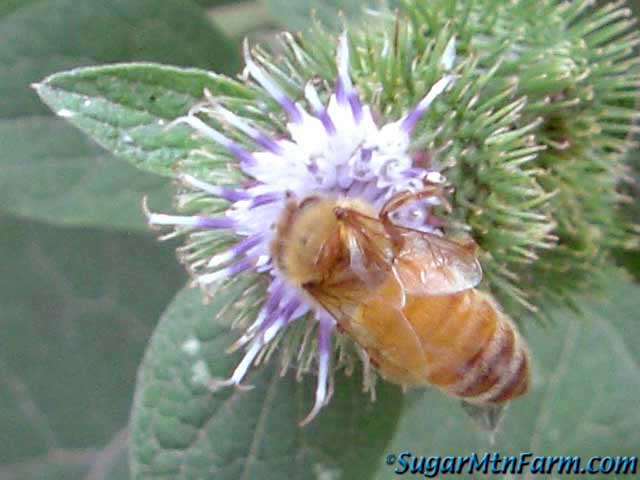 Honey Bee on Burdock
We have a lot of pollinators in our valley and mountain pastures. I've read about the problem bees have been having but we don't seem to be having that locally.
Part of this might be because we have about 70 acres of pastures in which I've planted a lot of wild flowers.
Part may be because I don't allow the power company to use herbicides, pesticides or fungicides on the power line areas and we don't use those either.
Part might be that we are a fairly isolated valley away from plantings of GMOs and with few human activities.
What ever the case, I enjoy seeing all the pollinators from flies to bees to butter flies to birds.
The one pollinator I have not seen at all this year is the Monarch Butterflies. Hope and I recently watched a documentary on DVD about them and it appears that the problem there is that their migration cycle involves multiple generations and is possibly being broken in two places, down in Central America with the cutting of the rain forests they winter in and in the mid-west USA with the planting of GMOs and pesticide use. A double whammy that they can't cope with.
Outdoors: 57°F/34°F Sunny
Tiny Cottage: 64°F/60°F
Daily Spark: Nigerian Prince Seeks Russian Bride for long walks on the bitch, scamming and other fun games. Please send bank account and email address soonest.