Ferret in Out House
Hope and Ben have two ferrets, Luna and Sola. The ferrets have a bedroom up in the loft of our
cottage
and then 4″ pipes that lead down through the walls to a tee junction that can let them down to the lower floor for evening play with the dogs when the end cap is open. Alternatively, all the time, the other leg of the tee goes outdoors through the wall to two spaces.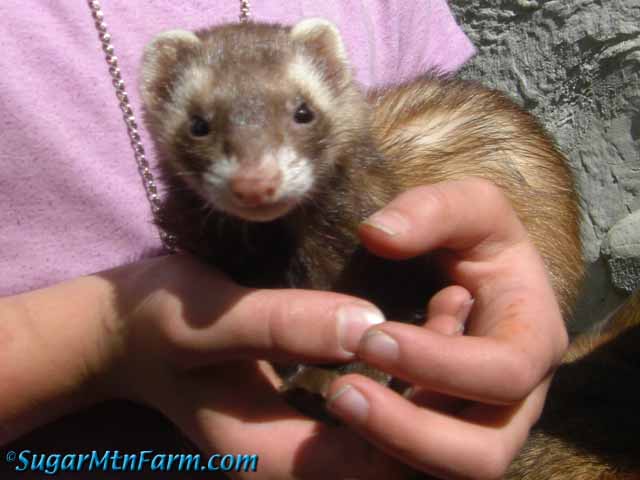 Luna in Hope's Arms
Outdoors they have their outhouse which is one of the barrels connected by tubes and they have an atrium which is shown in the top picture. The atrium lets them get out in the sunshine, climb their own private tree and poke their nose at the dogs.
Sometimes the ferrets go out for leash walks with Hope and Ben and sometimes they go off leash to hunt with the kids. Rabbit is their largest prey but typically it's mice. The ferrets love to investigate holes in the cliff face and stone walls looking for prey. When called with the click of a tongue they return to their young handlers like furry footed falcons.
Outdoors: 77°F/50°F Sunny
Tiny Cottage: 66°F/61°F
Daily Spark: People lie with the truth and tell the truth with lies. I like the wolf way better. It's not that they never lie. They love to lie. They think it is fun to lie. Some of their favorite jokes are lies. For them, a lie is either fun play or they plan to kill you. Either way, at least a lying dog is honest.