Morning Mists on Marsh Fall Foliage
Fall foliage is here. This morning the colors were very bright. This is looking across the marsh field to the marsh with it's rising mists in the low climbing sun.
Fall Foliage Panorama from Butcher Shop Roof (Click for Big View)
This is the view from on high. In past years we've spent a lot of time up here as we were building the butcher shop but now we rarely climb the scaffolding. It looks like a flat roof but actually is four slopes to a peak in the middle with a ring around it that directs water to corner gutters where eventually we'll put gargoyles.
The tarp area in the middle of the roof is the base of the future towner and high mechanical room. That is one of the projects we'll be working on in 2015 as we gradually build out the rest of our meat processing facility a.k.a. the butcher shop.
Riddle Pond in Morning Colors (Click for Big View)
This is the pond for which our road is named. It used to be a much bigger body of water but the state had an argument with the beavers and the beavers lost. Unfortunately the state keeps the pond pretty drained so it is more of a Riddel Marsh than a Riddle Pond – I spell it both ways. Today I saw nine Canadian geese there.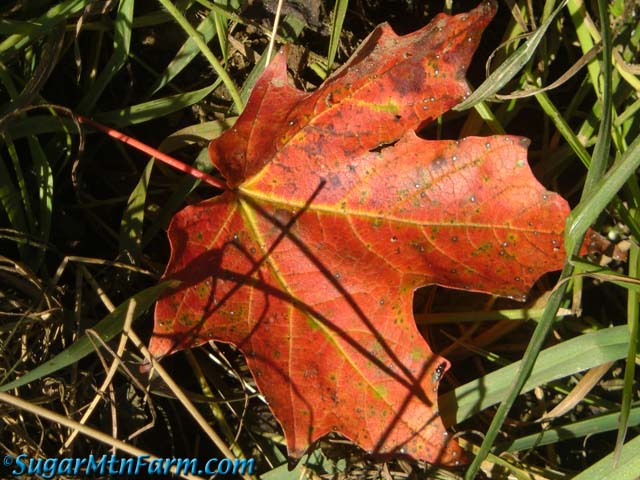 Fallen Maple Leaf
Raspberry Bushes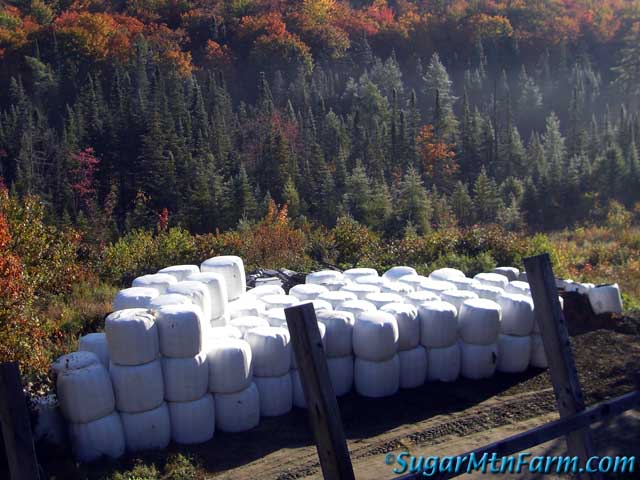 Winter Hay Arrival
Our first batch of winter hay is here. We'll be getting a total of about 300 bales to replace the fresh forages over the cold snow locked months. Hay for the pigs, chickens, sheep, ducks and geese is like canned, dried or frozen veggies on our table. It is not as nutritious or tasty as the fresh foods of the warm months but it keeps us going until spring when the fields will burst forth again. Hay lets us pasture through the cold times when we're up on snow pack.
Ben on Bale Grabber Tractor
In anticipation of unloading the trucks Ben spent some time practicing with the bale grabbers down on the road landing over the marsh field. A beautiful fall day to be out and about.
Outdoors: 74°F/47°F Sunny
Tiny Cottage: 66°F/60°F
Daily Spark: We once had a customer that ordered lion roasts. Those are rare and more expensive but I keep my eye out in the woods incase I run across a cougar. Another customer ordered loon chops. Those would be very small. Perhaps he had a typo and wanted chopped loon which seems more reasonable. We told him the game warden might have an issue with us hunting and selling the local endangered water fowl. Typos can be fun.