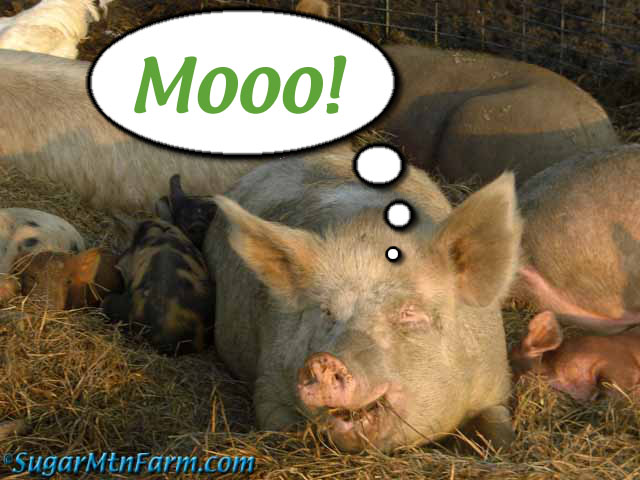 Moo Cow Sow chewing her cud…
Occasionally some miss-informed individual tells me that
pigs
can't eat grass, can't eat hay, can't thrive on pasture. When I relay this message to my sows it sends them into spasms of laughter which causes them to roll down our steep hills until they fetch up at the stone walls that were fortuitously placed along the edges. We all have a good chuckle and then they go back to eating pasture.
The serious note here is that there are indeed individuals and organizations that want you to believe that pigs, and chickens, can only be raised by feeding them commercial feed typically made from corn and soy. We neither buy nor feed this. The vast majority, about 80%, of our pigs's diet is indeed pasture.
As available they also get about 7% whey in their diet and seasonally other good things like apple pomace (just coming into season now), pumpkins, sunflowers and other good things we grow in our winter paddocks which become summer gardens during the warm month. Occasionally we get a little spent barley from a local brew pub, high in protein and fiber, but we have had many years without it and the pigs still grow.
I'm not fanatical about diet but pasture is the vast majority of what they eat. In the winter the fresh pastures are replaced with hay, summer harvested and stored over for the winter just like our family's canned veggies that we serve at our own table.
Why would the big feed companies promote such an obvious falsehood that animals require grain to grow? Same reason the drug companies promote antibiotics for growth in the factory farms. Money. If you don't buy their commercial feed products there will be a lot of starving speculators sitting on silos of corn they can't sell. That would be a crying shame now wouldn't it! So *shhhh* now there. Don't go telling other folks that pigs and chickens can eat pasture. You could be upsetting the apple cart and the status quo.
Grain isn't evil, it's just expensive.
Outdoors: 67°F/42°F Sunny
Tiny Cottage: 66°F/60°F
Daily Spark: I'm told I have an active imagination. I wonder why?