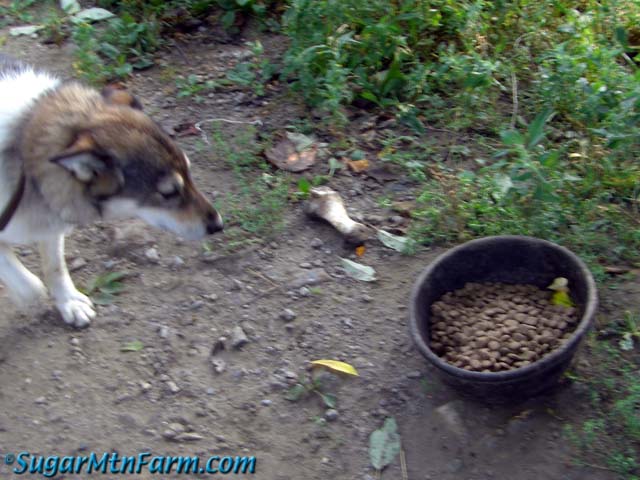 Romula with Old Style Dog Dish
Our
dogs eat
hornets
, snakes,
mice
and other
pests
as well as pastured pork. They get some dry commercial dog feed at times too. Not their favorite but it fills in between delicacies. The old style dog dish above works but it is not their favorite because it spills when carried in their jaws.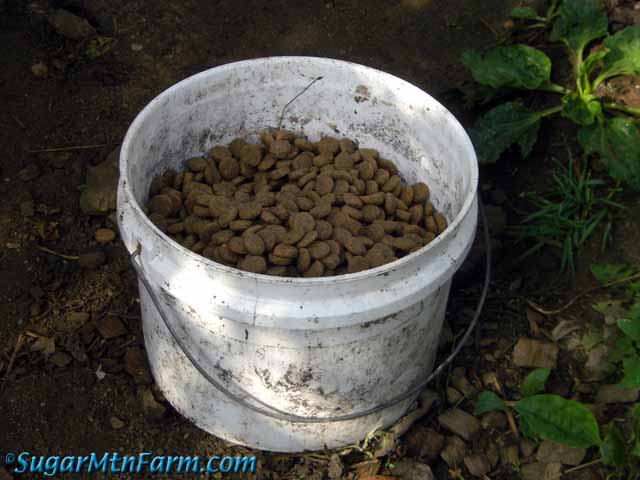 Dog Dish with Handle
The dogs prefer these dishes which are organic peanut butter buckets scrounged from the local coop food store. The reason they like the pails is they have handles which makes them easier to carry without spilling food. The dogs will pickup the dish by the handle and carry it to a private dining location sometimes as far as 600′ away.
The problem is the dogs don't tend to bring the dishes back. Or most of them don't. Remus and Katya do, sometimes, when they want to remind us to feed them. Quite Snoopy like. This results in dog dishes gradually scattering outward and us picking them up when we come across them. They need to learn to clear their table and do the dishes after dinner. Reminds me of an old disturbing joke…
Pastor goes to visit a little old lady in a run down house and she offers him dinner. He wants to say something nice so he complements her on how clean all the dishes are. She replies, "Yup, as clean as soap and water can get them." They have desert after which she puts the dishes on the floor and calls out "Heere Soap! Heere Water!" and her dogs come lick the dishes clean.
I prefer the dogs having their own dishes.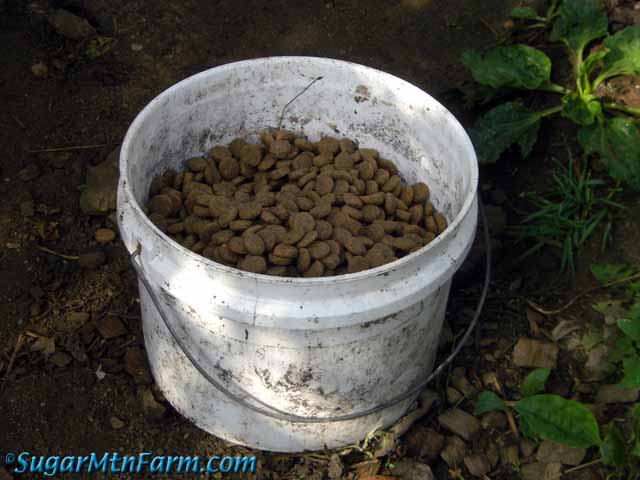 Dog Dishes Don't Last Forever
Getting misplaced isn't the only thing that happens to dog dishes. This one got picked up and carried around in their strong jaws a bit too much and is now bent and perforated.
Outdoors: 63°F/40°F Sunny, Rain
Tiny Cottage: 66°F/60°F
Daily Spark: If you fall in the Parisian river you are in Seine.