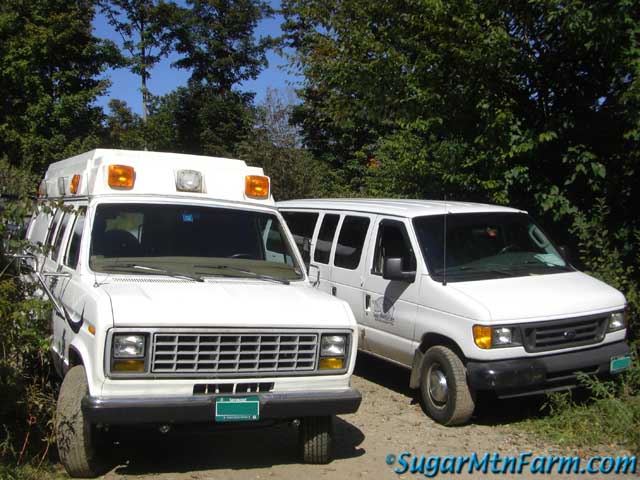 New Ambulance – The Backup Van
Yesterday we bought a new van, just like the
old van
. Well, new is a bit of a misnomer. It is new to us but we are the fourth owners. We are the third owners on our old van which is younger than the new van – I like a tool that lasts.
The new ambulance van is a 1986 Ford E-350 extended body ambulance with a 1968 engine and manual transmission with dual stick for creeping.
The old one, parked on the right, is a 2004 E-350 extended body passenger van.
Other than the year and small details like transmission and engine they are almost exactly the same. Quite importantly, it's the same length as our existing white van so we can haul lots of pigs and back haul as well. Ironically, at 19′ 6″ in length the vans are each only 6″ shorter than our 20′ long tiny cottage. They're also almost precisely half as wide as the cottage. Thus, between there two vans there is about the same amount of living space as in our home.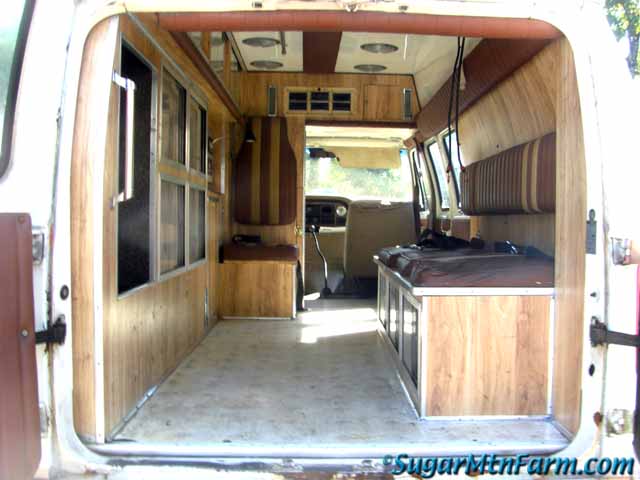 Interior of Ambulance
This is the only time I actually want to be seeing the interior of an ambulance. No offense to paramedics but I would rather not ride in a real ambulance. Almost all of this will be coming out as we refit the ambulance for deliveries. And no, the lights don't flash and there is no siren. Shucks.
Interior of Existing Van
The back will get a custom stainless steel pan to catch urine and manure from the patients, er I mean, pigs making it look much like our existing van. This protects the van from the acids and salts in their excretions. The pan sits in a heavy metal cage that keeps the pigs safely in the back of the vehicle so they don't wander during the in-flight music or movie. The porcine passengers load through the back doors at our loading ramp and then unload at the butcher's unloading dock each week after the three hour flight.
While it's the same length as our existing van, there is a lot more room in the new van because of its high ceilings. That extra height will let us take nearly twice as many pigs since we can stack them vertically as I've heard the airlines are doing with passengers now.
Seriously through, the extra head room will let us make the pig's carrier space larger, unlike they're doing in airplane seats, so that up to ten pigs can ride in the back. The pig carrier can be larger because the upper space which pigs don't care about can be used for storing coolers and other things in the overhead carry on luggage racks.
However, carrying extra passengers was not the point of the new van. The ability to transport ten pigs in comfort every week to market will be great but the real reason I've been keeping my eyes out for a second vehicle is that we only have one vehicle, our 2004 Ford E-350 extended body van which we use for deliveries. We keep it in tip-top shape but if anything were to happen to it we would not be able to take pigs to butcher or deliver meat to stores. Or anything else requiring road trips and we're a long ways from much of anything.
Because the van is often on the road to the butcher or doing deliveries that means the rest of use who stay on the farm most of the time are out in the sticks up on the mountain with no vehicle much of the time. That's a bit of a safety hazard. Emergency 9.1.1. is not a real safety net here. I mean, you can call 911 but it will be a long time until they get here. Our solution is to be very cautious about how we work but it would be nice to have a way to quickly get to the hospital in an emergency.
Getting a backup vehicle is important for a number of reasons. I like to have backups of everything. This one showed up just down the road from us and we dropped a reserve on it so we could have some time to check it out. It turned out to be exactly what we needed, almost the same as what we already drive and has been maintained by a mechanic owner for the last 15 years. It passed the look see by our mechanic, is in great condition and it hasn't seen Vermont winter salt – a huge bonus in the no-rust department. The price was reasonable as a final plus.
I couldn't say no to good fortune – so yesterday we bought an ambulance. Now we have a backup vehicle and a van while our main van is away on deliveries.
Outdoors: 54°F/34°F Sunny
Tiny Cottage: 65°F/57°F
Daily Spark: Lady Luck favors the prepared and the quick.