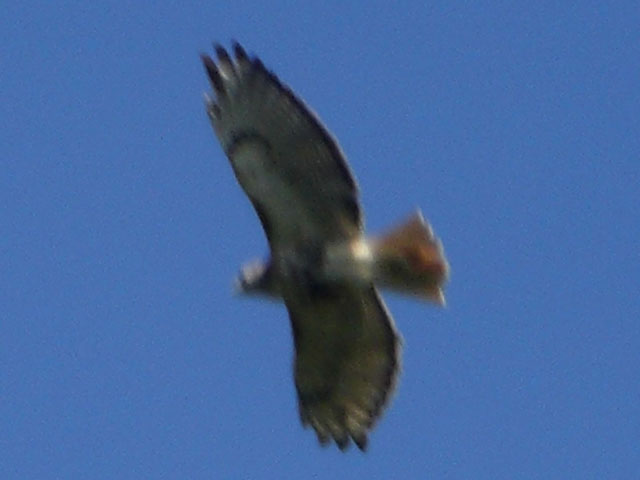 Mystery Hawk – Click Image for Larger View
This bird was following me around as a made my morning rounds of the fields. It gave sharp short screams. I didn't quite catch it's name, perhaps
Hudson Hawk
.
At first I thought it was a
red tailed hawk
but the wing tips seem wrong looking closely at my blurry photo.
Then I thought perhaps a broad winged hawk. That looks closer both by the tail, patterns and wing tips but I'm not sure. Unfortunately it was at the edge of my camera's optical telephoto range and a hard shot against the bright blue morning sky.
Ideas on identification? I'm sure it isn't a peregrine falcon, turkey vulture or eagle all of which I have seen here at various times.
Either way its been hanging around screaming at me for about two weeks, tracking me on my walks. It doesn't appear to be messing with the piglets, chickens or ducks. Just circles above me and screams time to time to get my attention. I wave and then after dipping it floats away on the wind, apparently satisfied for the moment.
Outdoors: 61°F/40°F Sunny
Tiny Cottage: 66°F/57°F
Daily Spark: A difference between Democrats an Republicans is who they blame. Neither is good at it.