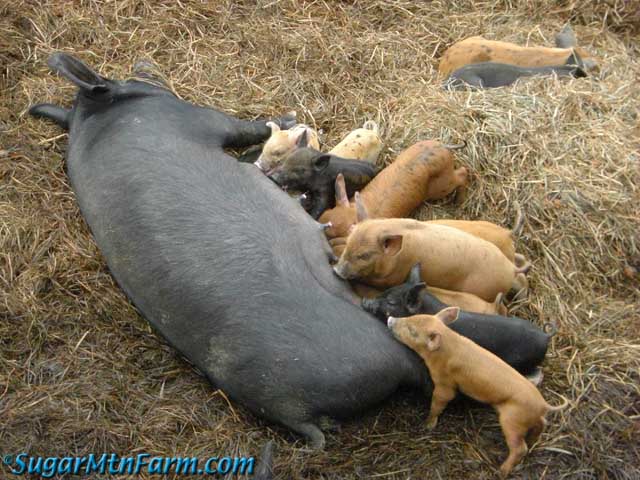 Black Sow and Piglets
This is her first litter, thus she's what is termed a Parity 1 sow. Before the litter was born she was a gilt – that is to say a 'Miss' in the parlance of pig production. In olden times they termed a woman who had not had a child yet a virgin but the meaning of that term has changed with the times which creates some historical confusion.
Typically we get to spring just scraping by on the hay but this year we were fortunate to have extra so the sows have been getting the occasional bale out in the near fields. This tends to suck them inward at night and they often farrow at the bales or utilize them for gathering nesting materials. It's an easy source of bedding. This sow and the one who farrowed with her have eaten down almost an entire bale despite also having pasture available. Interesting that they'll still eat quite a bit of hay when the fresh greens are readily available.
Outdoors: 75°F/50°F Sunny
Tiny Cottage: 66°F/62°F
Daily Spark:
Ronald Regan said a rising tide lifts all boats.
I would suggest we make sure everyone's not just
putting their boat in the water but the oars too.