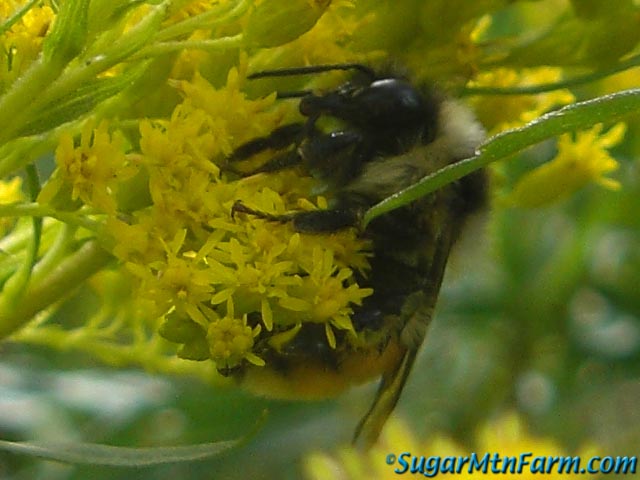 Bumble Bee on Goldenrod
We have lots of pollinators. From tiny flies to bees to hummingbirds and more. This is a really good year for hummingbirds. Unlike what I've read in the papers we don't seem to have any reduction in bee populations. I see many different varieties as well as many of each.
The success of the bees here may be because bees in our valley are very protected since we don't use GMOs, herbicides, pesticides, fungicides and our land is sparsely populated so there is little in the way of pollution. There is also no cell service so they have to focus on their work and don't do distracted pollinating which might be causing crashes in other places. The result is I never see bees with cell phones on our land.
What we have seen a reduction in is bats probably due to the white nose fungus. However we do have some so perhaps all is not lost. I read an article recently that the bats may be recovering and developing resistance to this fungus that was probably brought in from Europe by biologists's caving equipment. I would love to see more bats about.
Outdoors: 79°F/51°F Sunny
Tiny Cottage: 68°F/63°F
Daily Spark: Does a bicycle need a fish?