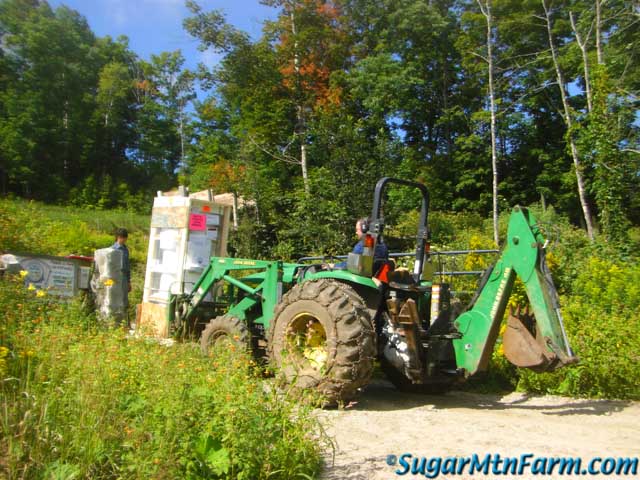 Walter and Ben with Heat Pump Water Heater
The last piece of equipment has arrived to open the butcher shop! This is our 80 gallon water heater. It is a tank based heater that works slowly and cheaply. We have a second booster water heater that arrived last week that works fast, noisily and expensively to quickly push the 145°F tank water from this heater up to 185°F for sanitization when necessary for pre-op and post-op cleaning.
The Accelera 300 is tall and top heavy. There were lots of warnings about it being difficult to unload. We strapped it to the tractor's forks securely – that took care of that. The unit is only about 400 lbs, plus packaging, so it didn't push the tractor's ability. I was prepared for worse and pleased that it went so smoothly. Getting it into the butcher shop will be the next challenge.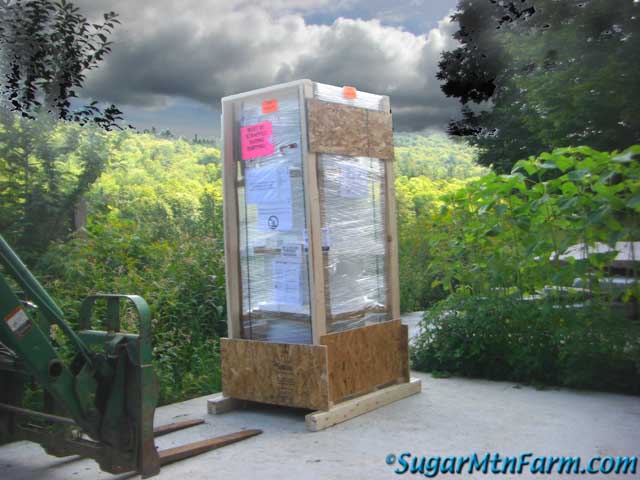 It's a monster. Right now it is light weight compared with what it will be full of water. It holds 80 gallons of water, which makes it a big water heater. Making it even taller is that on top sits a heat pump that sucks heat out of the air and dumps it into the storage tank. The result is it is well over 7′ high, considerably more wrapped in its packaging.
What is a heat pump? Think of it as an air conditioner. It will suck heat out of the air and pump it into the water producing chilled air which will in turn cool our initial cutting room. A two-for-one special! That was why I chose this unit.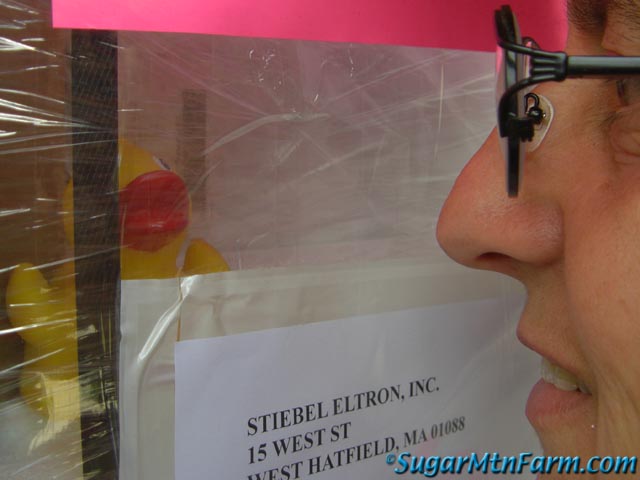 Rubber Ducky!
We were inspecting the package and discovered a rubber ducky had escaped the
Stiebel-Eltron
factory in Conneticut, traveling all the way north to our farm via FedEx Freight. I'll bet Ernie is bumming! We'll send it out to visit with the
ducks
in the south field. I'm sure it will feel right at home on our pastures and ponds. Maybe in the future we'll have a whole flock of yellow rubber duckies out there. Of course, they will end up being a cross with our Pekins and Rowans. Hmm… I'm not sure if this one is male or female. I guess we'll find out when and if it lays eggs.
So, now we're debating which of the four locations I designed for this will be the place I'll put the water heater in. I'm incline towards a temporary install in Cave which is next to iCutter. This will be the easiest. Then later we'll move it upstairs to Upper Mech or Admin Loft when those rooms are finished off. The only trick with that is we need to make it float about 2′ above the floor. Leviosa! Ah-ha! I can do that!
---
In other news, the head of the Vermont State Meat inspection program came by yesterday to check out our progress. I had invited him specifically to look at the polyurea wall coating to make sure it was what was needed. He was delighted with it and said it was far better than the typical FRP glass board that is used in most installations. While he was here he also checked out our initial cutting room which has almost all the stainless steel tables, shelves, sink and other equipment installed. Pictures coming soon!
---
In this picture you can see many of my flowers that are out by the driveway entrance. Day lilies, tiger lilies, Impatiens capensis, thistle, burdock, chicory, blackeyed susans and more. It may look like weeds to the passer by but this is my garden of Eden. Many I purposefully planted there. Others I merely encouraged.
Outdoors: 73°F/46°F Sunny
Tiny Cottage: 66°F/62°F
Daily Spark: Pigs are made of bacon. It is rumored there may be other bits of meat elsewhere on the pig.