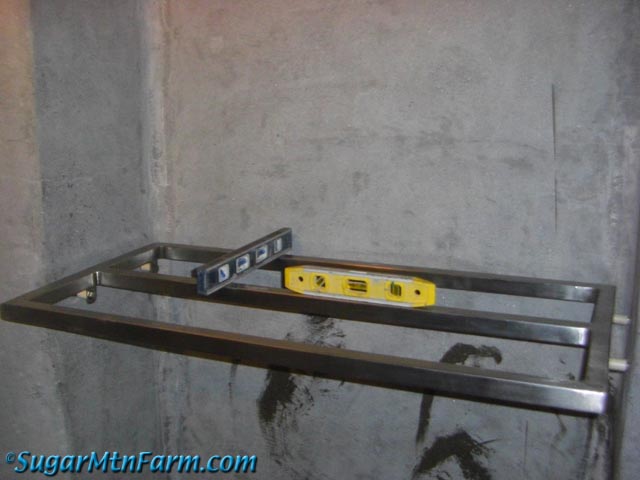 First Packer Shelf
The person doing deliveries will be doing the packing most of the time. We'll have a nifty
vacuum packing
machine and next to it set into the wall out of the way will be a set of shelves for trays of packaged pastured pork products to let her easily sort orders as we pack pork.
The pictured packer plateau is the first of five shelves that will take the stainless steel steamer trays. The shelf is stainless steel 1″ square tube that Will cut,
bent
, welded and polished and then I mounted with sockets in the wall.
I built a lot of things into the walls of our cottage and the butcher shop as that makes our tiny spaces bigger. Our walls are honey combed with pipes, conduits, cabinets, shelves and more.
Outdoors: 80°F/48°F Sunny
Tiny Cottage: 67°F/62°F
Daily Spark: So my wife walked into the tractor dealer and asked the guy behind the desk, "Can you show me your nipples?" After he got done laughing and she got done blushing he found her some grease nipples for our tractor in the parts department. Next I'll send her in to get some brass ball valves.