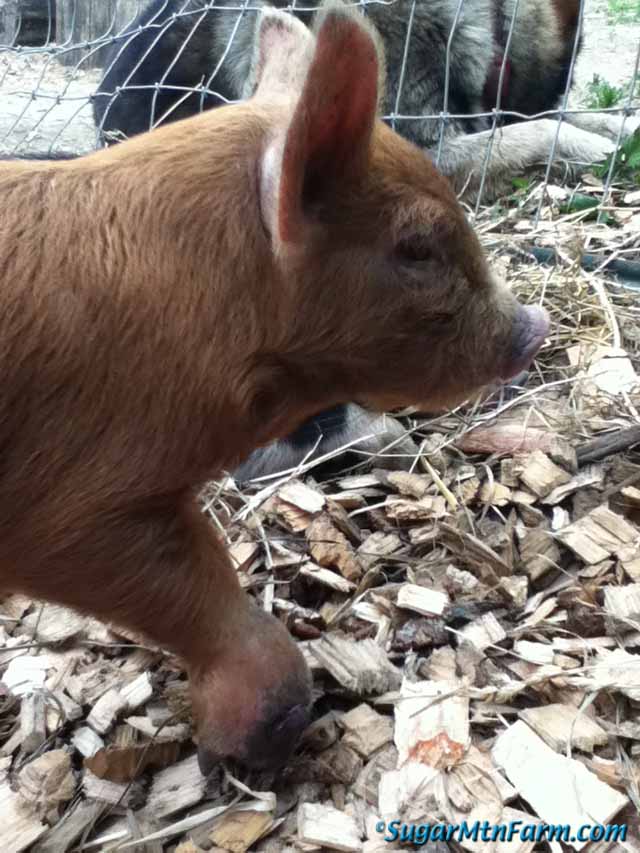 Dudley Pig with Foot Infection
This is Dudley Pig, named after the late great actor and comedian
Dudley Moore
. Ben found Dudley out in the field with a cut on the back of her right front foot that had become infected and swelled up as shown in the photo. In reality it looked quite a bit worse than the photo shows.
Antibiotics are the first line of attack at the factory farms, in fact they have traditionally run them at low levels through the feed and water all the time although that may be changing with the new rules by the FDA. We don't do that. You know why so I won't elaborate here since that isn't the point of this post.
Dr. Ben assisted by Nurse Remus with Patient Dudley doing a foot hot bath.
So, what is one to do with a infection? What did people do before antibiotics. Well, I mean do besides die? Hot water and poultices are a traditional cure and they do work in many cases. We're always getting cuts on the farm so what we typically do for ourselves is soak it in hot water. Our bodies naturally do this by getting a fever – the hot water soak aids the bacterial killing effects of inflammation and fever. Heat kills infections. As long as you don't get too hot or for too long it just kills the bacteria and not the animal. Using this little fact we can generally stop an infection dead in its tracks.
The key is early intervention. The sooner I catch the infection the better. In Dudley's case Ben gave her hot water baths (110°F) for five minutes a couple of times a day to killed the bacteria and allowed her to heal. This is more labor than a factory farm might be willing to spend on an individual animal but it can save their lives without having to resort to antibiotics.
Dudley's Foot Much Improved
Note that too hot a bath for too long can also kill the animal. It speeds up their chemical reactions in their cells effectively burning them out. What I'm trying to do is burn out the bacteria without burning out the animals. This is why our bodies use fevers to fight infection. Thus whole body baths are more dangerous than just a finger or foot bath although in some cases the are warranted and very effective. I just don't want to cook the patient.
For a small pig like Dudley we can easily bring her in from the field to our kitchen or hospital pen by the cottage. For a big pig we take out a bucket of hot water and rags to apply the heat topically. Multiple sessions a day are better than trying to do it all in one shot.
Adding iodine, or if I don't have that salt or even vinegar, can also help with the healing process and bacterial-cide.†
Today Dudley went back out to the field, fully recovered after a month in the hospital. She didn't need to be in the hospital paddock that long but she was good company for FDR. While she has recovered from what ever happened to her, FDR isn't likely to ever return to the herds as her back legs, although moving a little, still don't work right. FDR has grown by about a factor of three which is very impressive for a 'wheelchair' pig.
Quite randomly, at the same time as Dudley had his foot infection there was a chicken who got stepped on by a pig and had a similar issue. Ben named the chicken 'Moore' to complete the set. At this time Moore is also cured, through daily foot baths, and back out in the field. Interestingly, for about two weeks during Moores recuperation she stopped laying eggs, not surprising due to the stress, and then she started up gain as she felt better. A bellweather of her health.
Sugar Mountain Farm, where the pigs and chickens hot tub together…
Outdoors: 70°F/54°F Sunny
Tiny Cottage: 66°F/63°F
Daily Spark: They say that you are what you eat. So… To be a vegetarian, Eat vegetarians…
†I'm not a vet, or a doctor, so I'm not giving you medical advice. This is just what we find works. If you have an infection in yourself or children that you're concerned with going too far, of course, seek qualified medical attention from your doctor.