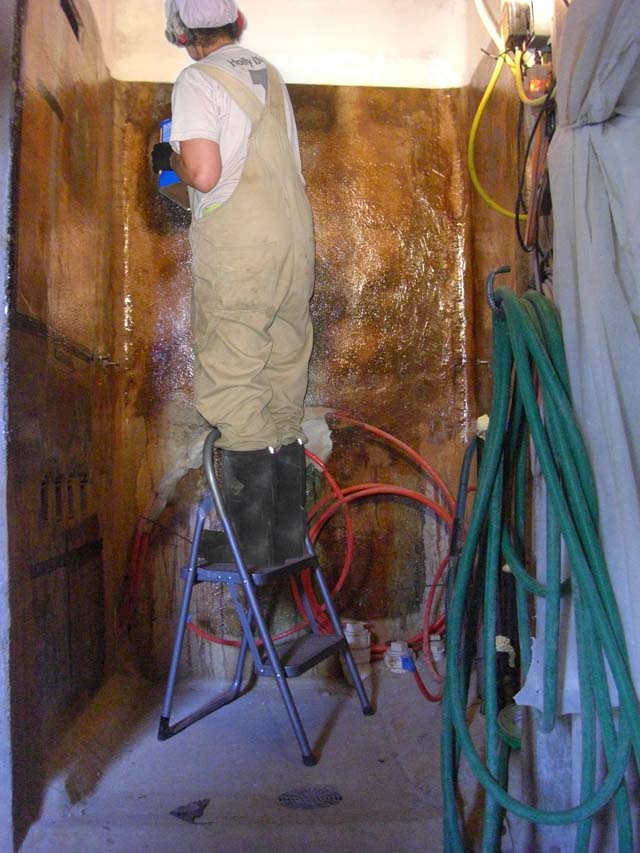 Laundry Room Polyurethane, Polyurea, Epoxy & Stained Concrete
Our
butcher shop
is mostly, as in something like 99% by dry matter weight, stone – Granite, in fact. The stone is bound together with cement. There are also fibers for strength, rebar, basalt mesh and insulation which takes up a fair bit of volume in some areas but is very little weight.
The tricky part with concrete is it is porous. Water penetrates concrete unless you use special admixes, surface coatings and other tricks for densification. Water penetration could lead to frost damage on the outside surface and bacterial and mold growth on the inside surfaces. Both are a bad idea.

I've mentioned polyurea a few times before. This is the surface coating that I've picked for our butcher shop. It is a tough, zero-VOC seamless coating that bonds with the concrete to create a durable, washable, impervious surface. Our rooms will be laboratory grade for easy sanitation, durability, low maintenance and food safety. This minimizes cracks where bacteria could hide and grow. The USDA and FDA like that!
Last year I did a series of tests with the epoxies, polyurea, polyurethane, cementacious urathane and other materials to pick what to use in our butcher shop to seal the concrete. I had been reading about the various chemistries and talking with manufacturers and other users for years. We're going with is a two component process which consists first of primer coatings of polyurethane and then layers of the final polyurea. Each coating is rolled or brushed on at approximately a 3 mil layer and then built up to the desired final thickness of 10 to 30 mil. A mil is one thousandths of an inch. 30 mil is 0.03″ which doesn't sound like much but it produces a strong coating that stops abrasion and water penetration. It is also good to walk on, not being too slippery.
I measured our application and coatings and found that using the roll-on application we are getting a 3.03 mil coating with 527 sq-ft of coverage per gallon. That is slightly thicker than the 3 mil minimum coating the company says we'll get with a roller but that probably varies with the roller type. We're also getting slightly more coverage than they say we'll get. That's good to know for planning.
In our case we are coating the ceilings, walls and floors seamlessly. This maximizes the sanitation effect. Normally in a meat processing facility, a.k.a. a butcher shop, they use what is known as FRP (Fiberglass Reinforced Plastic) Bead Wall or similar material. Unfortunately that produces lots of cracks and back areas where moisture could collect facilitating the growth of bacteria. The name of the game is clean, cool and cloistered. The polyurea-polyurethane combination helps us achieve that with a long lasting coating.
The patches I did last year on 48 different places around the butcher shop still look great. It's very tough material. In fact, it's hard to grind off even with the big construction grade grinders we have. If you put it somewhere, expect it to stay there for a long time. Along with this thought, make sure that the surface you're painting it on is tough because if the surface comes off, you lose the coating – obviously.
Another important aspect of the polyurea is that it is easy to repair. This is very tough stuff but if it gets damaged, say you drop an engine block on it from 8′ up like one guy I read about did, we will be able to quickly repair it between our weekly processing schedules. Maintainability is very important. If it isn't easy to be maintained, it won't be – sounds like that should be a fatalistic rule like Peter's Principle or Murphy's Law. Let's call it Walter's Rule.
Lastly, while you can spend a lot of money on fancy spray rigs to apply the polyurea and polyurethane it can also be applied, more slowly, with just a brush, sponges and roller. This makes it workable for Do-It-Yourself folks like us. The spray-on type is just a little bit cheaper per square foot, with the big fancy sprayers, but the sprayers cost $10,000 to $43,000. I can buy an awful lot of polyurea for that cost. Speaking of cost, the stuff is not cheap at about $67 to $150 per gallon. The fact that it performs so well and lasts is its saving grace.
There are many suppliers of polyurea, most of whom are resellers wanting to sell you equipment to apply the material. Many of these are franchises or the like. The basic chemistry is all the same but there are variations in additives and things that change the reaction time of the materials and other performance parameters – read the literature carefully. Like with many things there are some scam artists out there in this industry so eyes open.
The reaction time is critical for being able to apply the coatings by hand – you need a slow reaction time as opposed to the fast reaction time needed by the spray rigs. The kind we are using goes hot at about 7 to 20 minutes depending on temperature. Our building is cool at around 60°F naturally in the summer due to its high thermal mass. At higher temperatures it will react faster shortening your pot time. But for ceilings and walls it has to react fast enough and be viscous enough to not just run down and drip to the floor – that too is important.
The company we got ours from is an actual maker rather than a franchise reseller: Creative Material Technologies, Ltd located in Massachusetts. They offer a wide variety of products including spray-on, brush-on/roll-on and primers. We are using their Dyna-Prime N-23, Dyna-Pur 9016BL and Dyna-Pur 9086BL products and are very pleased with the results. (No, this isn't a paid endoresment or anything like that. We're just happy with having finally found a supplier that offered a brush-on / roll-on version, will work directly with the customer, has good support and an excellent product.)
So what is polyurea-polyurethane? Truck bed liner! That is probably the form that you have most commonly seen it. Most truck bed liners are quite rough, very different than what we're doing, but it is the same chemistry. The polyurea is the high quality truck bed liner, not the drop in or cheaper spray or paint on versions – there are multiple quality levels some of which are cut with solvents. Polyurea is also used to coat the floors and steel members in many industrial settings, including meat processing facilities. It's also used for coating the insides of pipe lines. Quite interestingly, polyurea is also used to make bomb proof buildings as the Mythbusters[1, 2] demonstrated on an episode in 2011. In fact, their episode on truck bed liner uses which Hope and I saw on DVD was what got me interested in the polyurea material to begin with. So now we'll have a bomb proof butcher shop!
---
And now back to the photo above:
This is the laundry room which has been a test bed for a lot of different things since it is not something people will see, not a work room and not a food contact space. All this makes it an excellent place to test ideas. I like to do things with gradually built up tests[1, 2, 3, 4, 5].
I did various epoxy patching tests in here which you can see if you look closely.
The room had various tests for plastering and grinding before we applied them to the rest of the rooms.
Much of the room got stained with various colors of concrete stains in overlapping patterns to test colors, textures and blending. These react chemically with the concrete producing the beautiful leather like burnt colors. Some of the combinations were hideously ugly. Glad I have a test room!
The entire room was coated with two layers of clear polyurethane Dyna-Prime N-23 Water Chasing Primer using a roller for most of the room and then a sponge brush to get patches behind pipes and such that I could not get with the roller. This left the room with a wet look that enhances the display of the cut stone and stains.
The ceiling was done with two coats of white polyurea Dyna-Pur 9016BL rolled and brushed on as appropriate.
The upper half of the walls were coated with two coats of clear polyurea Dyna-Pur 9086BL which shows off the colors of the stains.
I figured out yesterday how to properly do the black trim lines using green frog tape – one of several options. The much more expensive metal tape is not necessary. Foil tape, tan making tape, duct tape, gorilla tape, packing tape and a variety of other things did not work. The trick with frog tape is it is going onto the already smooth first layers of polyurea, smooth it down tightly, roller onto it and then pull it off at about 12 minutes – timing is critical or it gets bound into the tough polyurea. If you're in a hotter climate you may need to pull it off sooner. You'll note a number of black patches from our experiments.
We just finished doing white edging along the bottom of the ceiling area using green frog tape to mask and a roller to apply the white polyurea. We used a laser to set the masking tape.
In the picture we are using a rag and a bit of acetone to clean off a few drips of still uncured white polyurea that occurred during the edging process. You may note her stylish shower cap. This keeps drips of polyurea from turning her beautiful hair into a solid mass – kinky.
This morning Ben ground the concrete floor and grey Barre granite stone sill[1, 2, 3] so we could finish the room.
In the afternoon I applied the polyurethane primer coat to the floor and sill stone – it looks gorgeous! The poly gives it a wet look that makes the colors of the stone pop as if it had been polished.
Tomorrow we'll be doing the bottom panels of the laundry room in white, grey and clear and then the floor in clear.
We will trim out the rest of the door frame and borders in black completing the laundry room.
Mean while, back in his secret laboratory, Will has bent, fabricated, welded, drilled, ground and polished the stainless steel rack that will hold the drier in the upper half of the room. You can see the bolts in the sockets epoxied into the wall that hold the rack about halfway up the walls. Once the polyurea has cured for 48 hours we'll have an installation party putting the washer and drier back in their final home.
On a related note, today I primed the entire inspector's office walls and ceiling with two coats of the polyurethane primer in preparation painting in there. The polyurethane coating makes the brick arches look awesome!
Outdoors: 77°F/54°F Sunny
Tiny Cottage: 66°F/63°F
Daily Spark: Walter's Rule: If it isn't easy to maintain it won't be.