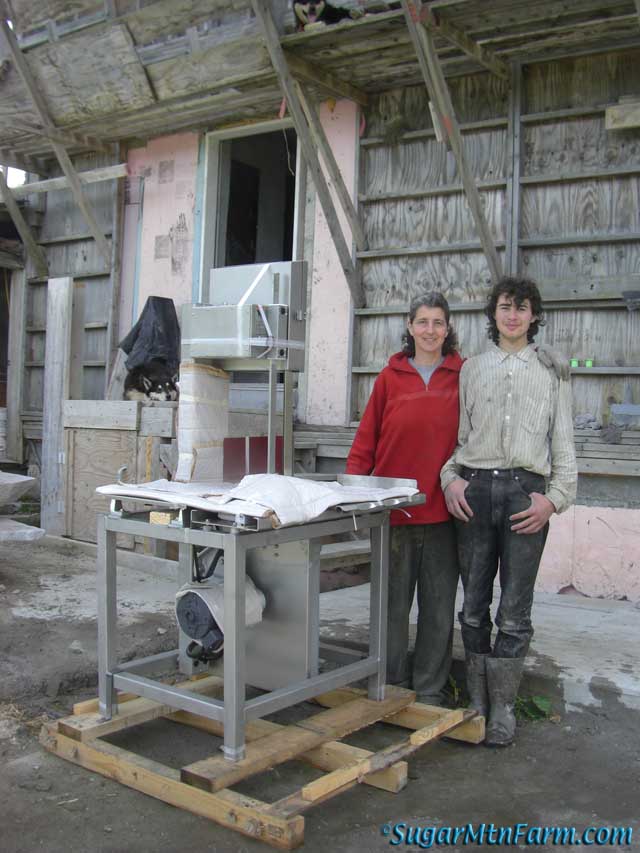 Hobart 6614 Meat Band Saw
Proud owners of a brand spanking new Hobart meat band saw are they! This is the result of the long
debate
about which equipment to buy for the butcher shop. That is a Hobart 6614 Meat Saw. Like with most things in our butcher shop, it is stainless steel construction and according to everyone we've talked with it is built to last generations.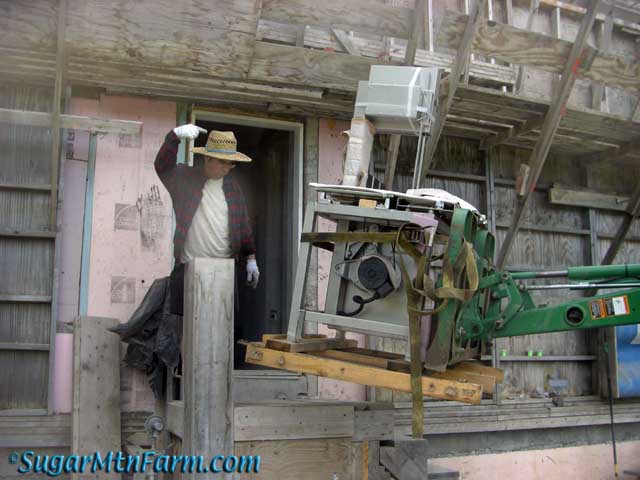 Lifting Meat Saw into Butchershop
The meat saw is 410 lbs, plus pallet. The box it came in was big enough to live in. Seriously. Lifting it up the front steps into the butcher shop is a job for the tractor. Having a forklift is a major plus when dealing with things like this. Will set it gently on the front steps where we then disassembled all the pieces we could before team carrying the remaining 350 lbs into the initial cutter room (iCutter). We have wide doorways on the butcher shop just for situations like this.
Flip Up Carcass Breaking Table
In order to know how we wanted to setup the butcher shop we built all the tables, counters and shelves out of wood. Fine wood working this is not, but it gave us a chance to easily change things with cheap wooden mockups, test out table sizes, heights and other ideas. In the real butcher shop we're replacing them all with stainless steel. In fact, as I write this, all the wood is gone and we're almost done building out the stainless steel versions. In the end, there will be no wood in our butcher shop.
Since we have a very small, nano-scale butcher shop we make the most of space. Think of it as like living in a yacht, spaceship or tiny cottage, something we have lots of experience with. Thus the fold up table shown here and others that move out of the way when not needed. Sometimes this counter is folded down so that it can be a meat cutting and carcass breaking table. Other times it's folded up against the wall for working with the bandsaw or cleaning.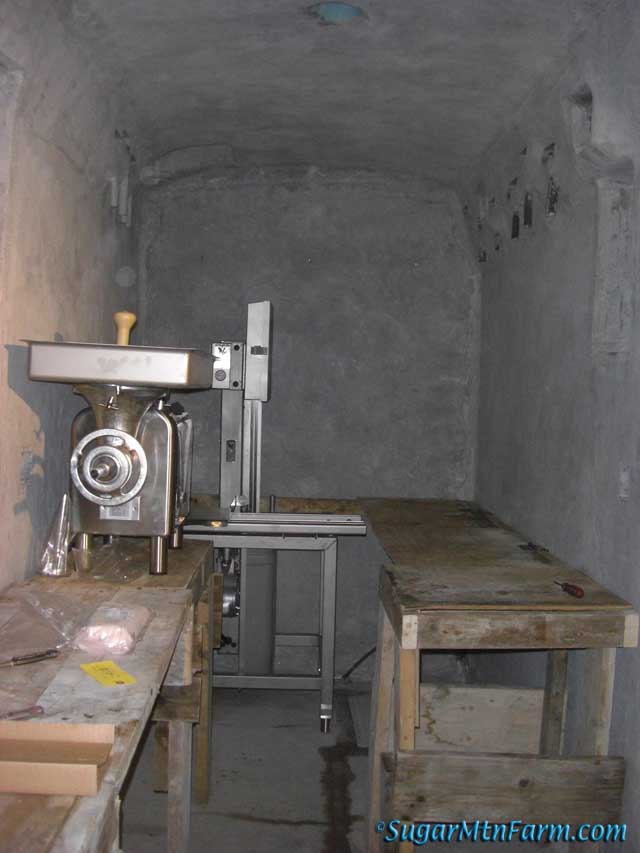 Hobart 4822 Meat Grinder
The meat grinder on the left is on a high table. In a later version of the wooden mockup we lowered that table to make it easier to work with the grinder. This is why working with wood when doing mockups was invaluable. It let us figure out how to get it right before we built it in expensive stainless steel. With wood we could quickly hack off pieces, change heights and make other adjustments to figure out the best way.
Look at the room in the background… Notice how all the electrical conduit, plumbing and other stuff like that is hidden away in the shell of the building, in the walls, ceilings and floors. This leaves the surfaces smooth and easy to clean.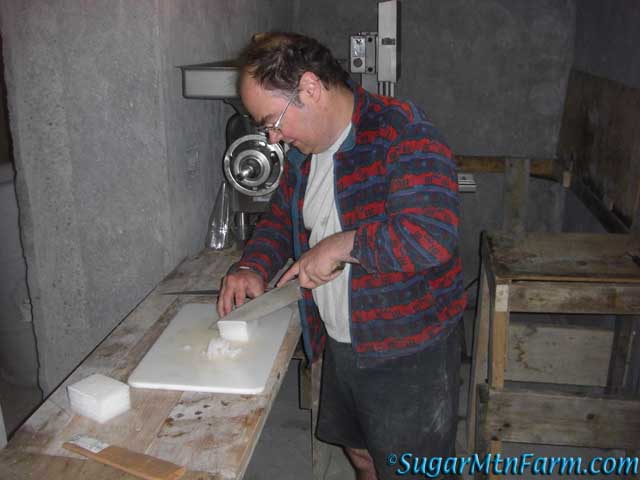 Walter Cutting Mock Pork
Here I am practicing cutting mock meat on our mock counter in the mock cutting room. Mock meat tastes just as good as plastic but has only 10% of the calories and comes free in shipping boxes. Strangely this meat substitute has not yet found favor with the general public.
West End of iCutter
Looking back in the other direction you can see the mockup of our future meat packaging work station. Once we've cut our pastured pork, we will vacuum package it and sort orders for delivery to customers the next day. Just-in-time farming.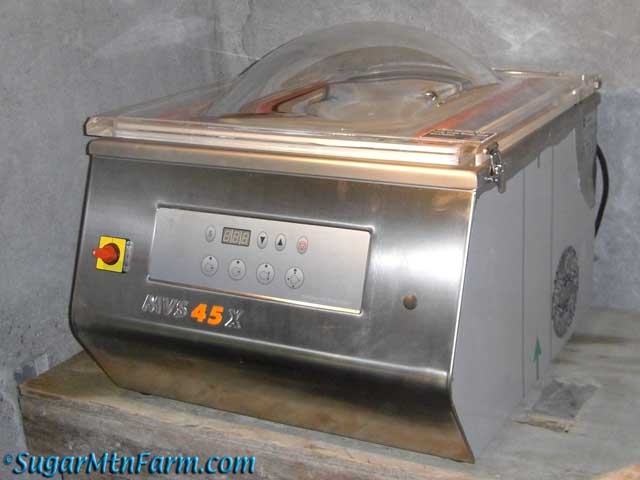 MiniPacker MVS 45X Vacuum Packaging Machine
This machine sucks. I mean that in a very good way. It works great, pulling a very hard vacuum to remove the air from packages so that the meat stays fresher. This is much like canning but without heat so the meat still needs to be refrigerated or frozen – it's not shelf stable.
In a later mockup of the counters the packer table dropped to a lower position making it easier to place and remove packages. Since we can't think of everything the first time, we do a version 2.0 and a version 3.0 to get it right.
Game of the day: Did you spot the dog? If you spot the dog, do you know his or her name?
Outdoors: 79°F/58°F Sunny
Tiny Cottage: 68°F/63°F
Daily Spark: I met an odd man once. Then I met his twin and that evened things out.