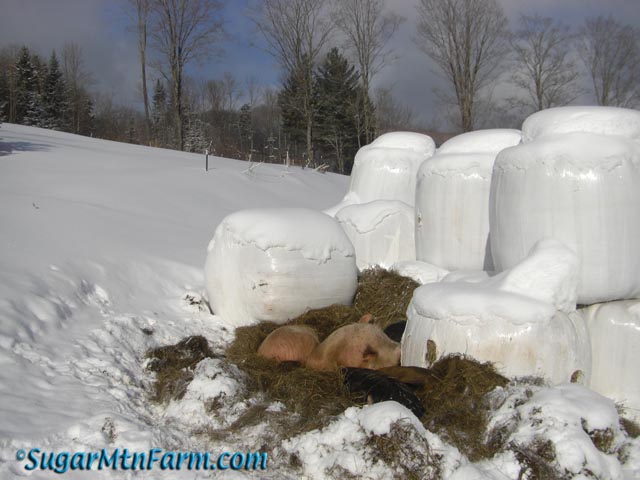 Big Sows – Far Nest
This is not a July picture. We do not have snow now – not this year in July. Thank you! It has happened. It has snowed in July but that is not what this is about.
What this photo shows is several of the largest sows who have nested on the far side of the hay storage area. Interestingly the largest pigs are the ones most willing to walk the longest distances.
They pass by the open south field shed which would provide them with a roof and has a deep bedding of wood chips topped by hay. The smallest pigs sleep there in the winter.
They pass by the plateau near wood chip pile where some pigs sleep of more moderate sizes.
They pass by the plateau center wood chip pile with hay where one and two year old sows were sleeping.
They pass by and around the end of the hay bales stacked two high and into the lee where they opened up a bale to build this nest.
In the warm months it is the bigger pigs who are willing to again walk the longer distances. Often several miles a day out to the far grazing paddocks and back. If possible smaller pigs drop off along the way to eat the nearer forages.
The longest the big pigs have walked is about one mile out from the center of our farm and then back for two miles in a morning. Since they were ambling around and grazing as they did that the actual pedometer miles must have been far more. The closest neighbors were a bit surprised.
Bigger pigs are willing to walk further – useful information when planning.
Outdoors: 82°F/50°F Sunny
Tiny Cottage: 69°F/63°F
Daily Spark: "Every day thousands of innocent plants are killed by vegetarians. Help end the violence. Eat bacon!" -Anon