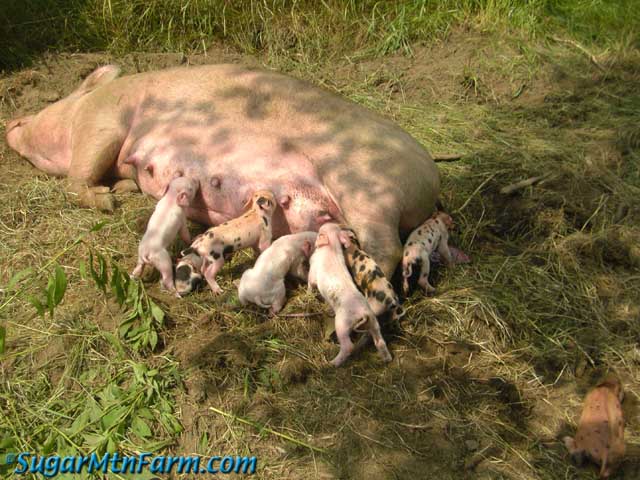 Sow in Labor
This lady is birthing, that is to say farrowing piglets. I came across her in the lower south field which is full of a dozen late gestation sows and 49 newborn piglets from this week. She had built not one but three nests under the shade of an aspen tree. Such industry.
I suspect the reason she built several nests was that the shade of the tree kept moving so she would build a nest yesterday and then build another once the shadow of the tree changed places. The result is she was all ready for her big event, in triplicate.
I found her just as a piglet was born, number five of nine, and managed to get video of there to the end when the second placenta came out one hour later. That's about twelve minutes per pig for those who are counting and curious about such things. Each piglet took about 10 to 15 minutes to clean itself off and circle around her to a teat, typically going up along her back side and over her nose but a few around her legs.
Typically the sows give birth without me being around but it is fun to get to observe the whole, or most, of the process once in a while. Watching was an opportunity to think about how to improve the farrowing pastures as I'm working on some new fencing ideas.
The sow did an excellent job, staying still and quiet in her farrowing trance the entire time. The only thing she said was "Go Away" to Little Lots, one of our #2 Large Black line sows who came over to investigate at one point. Little Lots left and the sow who has no human given name quietly continued with her breathing exercises as she gave birth.
This raises an interesting point. I know each and every sow, every breeder and most feeders. We have names for most of the breeders since we need to talk about them often. But I'm not a language based person so I don't give names unless I need to talk about something. This sow is who she is. I know her. She knows me. I doubt she has a spoken name for me, just as I have no spoken name for her. Maybe she names me by a smell. I name her in my head by what she looks like – I have mental pictures of her. Yet, no spoken name for either of us.
Since she has given birth to two litters and passed the trials of breeding perhaps we should have a little contest giving her a human name…
Sow Naming Contest
Prize: Sugar Mountain Farm Calendar 2014. See these past calendars.
How To Enter: Leave a suggested name in the comments section and fill in your email address so I can contact you if you win. Bonus points for explinations of reasons for names.
Rules:
Names must be unique – I don't reuse names;
Names must be polite;
Names can be of people, living or dead;
Names must be easily pronounceable without abbreviating;
Must be a name I can easily call over long distances;
Limit one entry per comment;
Limit three entries per person;
All entries must be received via the comments section – no email, phone or other entries will be considered;
Entries must be time stamped by midnight of August 31st, 2014 by my web server;
Contestants must reside on planet Earth and have a shipping address that doesn't cost more than $15 in postage – I think that covers worldwide shipping for the calendars;
I may pick multiple names and use them for future pig names – this means multiple winners in that case;
I get final say; and
I get to make up new rules if I want to cover something more.
Fine Print: No monetary value. No entry fee. Just fun. Void where prohibited. Walk on the grass, barefoot. Watch out for turds.
Background on this sow:
A great mother;
16 months old – that's about 23 years in Human;
Second litter;
Nine piglets in this litter;
Eight piglets in her last litter;
Same cohort as Spitzon but not related to him;
Spitzon was the father to her piglets;
Yorkshire type looking sow from the Mainline;
Excellent conformation, good growth rate;
Very white, blond hair, perky upright ears, long eye lashes, all natural, 14 teats;
Measurements: 56-56-56CCCCCCC;
Not sure what her dress size is as I've never seen her clothed;
One stud earring in her left ear lobe – no other body piercings, tattoos, etc;
Her sign is Aries and she likes long walks on the mountain, big husky guys who foam at the mouth, skinny dipping in the mud wallow, the social scene but not into night life; and
She's quite friendly and calm but by no means anyone's pet.
Leave your name suggestions in comments!
Outdoors: 80°F/62°F Sunny & Some Rain
Tiny Cottage: 69°F/63°F
Daily Spark: In the future everything will be free, for 15 minutes.