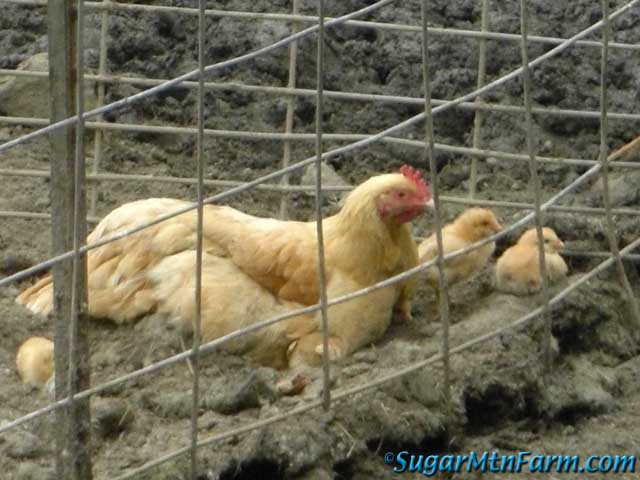 Buff Orpington and Chicks
Mostly we
buy in baby chicks
every few years but some are born on the farm, hatched by our existing population of chickens like these six chicks who are being mothered by a Buff Orpington hen.
We keep up to 300 to 500 hens for their services of organic pest control. They eat insects. This means I can grow things organically without having to use pesticides. We also live uphill from a marsh so there are mosquitoes from there and there are blackflies and horseflies from the woods. The hens also do a fantastic job of keeping down the tick population and they're quieter than guineas. All of these insects are food for our hens which means we don't have buy chicken feed.
The result of the hens is a severe depression of the biting insect population within about a 1,000′ radius of the chicken roosting spots. That's about how far the hens forage each day. In the winter when the insects are gone we feed pigs to the chickens, that is to say the chickens get a share of the meat scraps from butchering. This gives them the protein and fat (calories) they need to get through the winter. They also eat a fair bit of hay which replaces the pasture grasses they eat in the warm season although hay is no where near as good as fresh pasture.
A side bonus of the hens is that they produce copious volumes of eggs which we cook to double the available protein and solve the biotin antagonist problem.jn.n1716 We concentrate the fully pastured eggs towards our younger pigs, the piglets, weaners, shoats and growers because they benefit the most per egg and that gives us the greatest feeding leverage.
The hen and her chicks in the picture are sunning themselves in a warm spot near the south whey trough. The pigs have a wallow[1, 2] right there and along the side was a dry area that the hen was using for her dust bath. The fencing divides the trough into four sections so that different groups of pigs can access the trough from different fields. The chickens are capable of walking right through the fencing and tend to follow the pig herds around since the pigs stir up insects and such. This is much like one sees out in the wild with big grazers and the birds that follow them.
Outdoors: 83°F/47°F Sunny, Super Moon
Tiny Cottage: 69°F/64°F
Daily Spark: Government is the 800 lb gorilla we invited to sit in our lap.