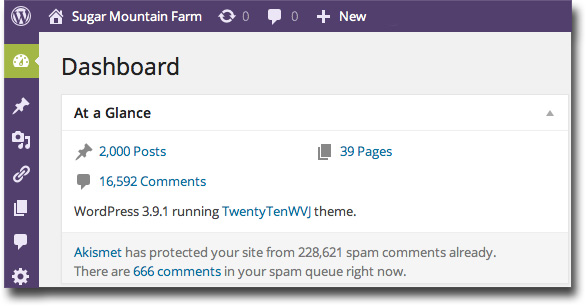 2,000 Blog Posts
Bit of a milestone on my blog as I posted the 2,000
th
blog post yesterday about
Of Porcupines and Stock Car Racing
. It is amazing how far one gets by putting one foot in front of the other. At the end of August I'll complete my 9
th
year on my blog since writing the
welcome
post in 2005.
I write primarily for myself, for my own enjoyment, for relaxation. It is a way of recording our journey and projects such as the building of our
cottage
, our
butcher shop
,
research
,
kids
,
dogs
,
pigs
and
mysteries
. I hope that you find it useful, amusing and entertaining as you peek into activities here at
Sugar Mountain
.
Thank you to everyone who has written comments be they words of encouragement, reports from the field or questions. All are welcome on posts both new and old. One of the wonderful things about the web is how articles stay live and discussions are extended over the years rather than being static like a book.
For those who are new to my blog, check out the right hand column for ways to dig deeper through the search function, the tag cloud, favorite articles, most commented and other tools. Within the articles watch for links that will take you deeper into a topic like rotational grazing or flowers.
My blog is created on an aging Frankensteinian MacBook computer using WordPress for delivery and a Casio EX-V8 digital camera for most photos.
Here's looking forward to more adventures, the next 2,000 articles and another decade of life on Sugar Mountain…
Cheers!
-Walter
Outdoors: 75°F/48°F Sunny
Tiny Cottage: 68°F/64°F
Daily Spark: The other day there was a news article in the paper about the Vermont fire inspector who's Ford Fusion collided with a Pontiac Sunfire. Fortunately there was no nuclear explosion, no melt down and nobody was hurt but it was quite the coincidence of names and title.