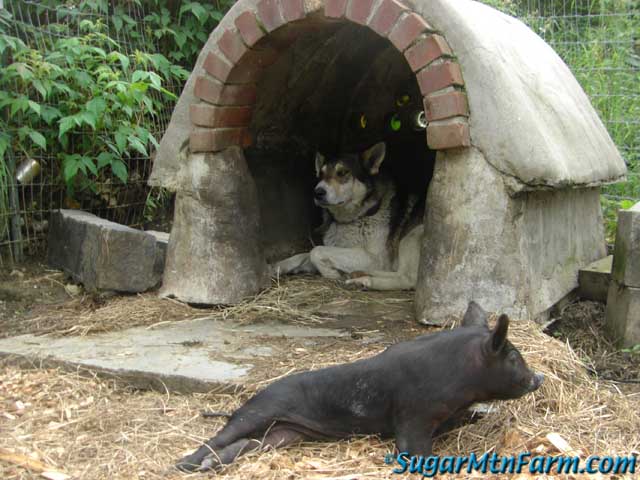 FDR – The Paralyzed Pig
That's FDR in the photo. She's a gilt weaner piglet named after the late great
President
. He had polio. I'm not sure what her problem is but she can't use her back legs. Still, she gets around, dragging her paralyzed hind quarters behind her using her front legs. She's a survivor.
Pigs are not nice people. They do not take care of each other. There is no empathy in pigs. No caring for the injured. No altruism. Pigs are about "Me First" and everyone else is a distant ninth.
Contrast this with human society and wolf society where we take care of our injured, bring them part of the kill to eat while they heal, doctor them through illness. Wolves and humans both do altruism. They gift give – something you'll never find a pig doing in their natural society.
This brings us to why FDR is up at the dog house by our cottage and not out in the field with the other pigs: I was out walking and saw her dragging herself along hoping for a crumb of the bread I was broadcasting. Another little pig of her size saw her too and nailed her. It was all over her. Biting her. Pushing her. Tearing at her ears and face. There was nothing she could do to defend herself. There was plenty of food all around them and no need for the fighting.
I see this sort of behavior. Pigs attack the weak and will kill them. I suspect the reason they do this is because a weak animal in the herd may attract predators. By killing or weakening FDR and leaving her as the herd moves on the other pigs increase their odds of survival since the predators will stop to eat her. It's a survival strategy for herd animals but not very nice. I cull against this but it is deep in the pigs's ken.
So I picked her up and carried her to the cottage. Remus immediately took her under his, er, wing and has been nursing her back to health, feeding her donuts and telling the other dogs that he is the one who gets to doctor her. He's very good with piglets, as are all of the dogs. They understand caring for the weak. That's what they do. They understand altruism and gift giving. These are natural behaviors that cement the bonds of their pack.
I don't know if FDR will ever walk. Possible causes for her rear leg paralysis include but are not limited to:
Sunburn/sunstroke
Bacterial Infections
Viral Infections
Botulism
Mycotoxins
Poisonous plants
Mineral deficiencies
Injury (e.g., stepped on in the case of a piglet)
Only the last one seems likely since she is the only pig exhibiting the problem. Yet, I see no dislocation, no injury to the skin of her back or legs. It is a puzzler. Thoughts on causes?
ThePigSite web site has a disease problem solver on it that might help if you're trying to diagnose ills. It tends to come back with a lot of false positives but that can help identify some possible causes and then one can eliminate the impossible.
So there is FDR, paralyzed from the waist down but still a survivor. No wheel chair for her. Maybe she'll make it. Maybe she'll regain the use of her rear legs. With some palliative care her body may heal. That's the hope. We and the dogs will care for her.
With this in mind, since she is a new weanling, I went to make her some yogurt. But low and behold, the only yogurt I had was a little bit of quite moldy yogurt in the back of the fridge. Normally I start with a nice clean culture. In fact, I've never tried starting with a culture this green and fuzzy, by far. On a desperate whim I blended it with a gallon of whole milk and some molasses and set it in a hot water bath in the kitchen sink to see if the Lacto bacilus could win in the battle against the green mold and what ever else was growing in that container. Miracles of miracles, a day later I had a gallon of yogurt! FDR was most appreciative. From that I've done two more gallon's using each as starter for the next. I guess the good guys (Lacto bacilus) won.
Outdoors: 79°F/54°F Sunny
Tiny Cottage: 68°F/63°F
Daily Spark: Pigs have neither morality nor ethics although they will espouse both during an election.