Walter Walking South Field Sows
The objective was not to feed the sows a treat of bread but rather to train the near weaner piglets to follow me. We wean the piglets in batches. Each day one of us takes a walk through the field with a little bit of bread and leave a trail. The sows follow me and the piglets follow the sows learning to follow me in the process. At this point the piglets are expecting a treat when they see me coming.
This taming training is important because piglets born out in the mountain fields don't get huge amounts of contact with people. The see us in passing but are more wild thang than
cute pets
.
The field training gets the piglets to follow me to where we setup a creep. The larger piglets go in and we close the gate. Smaller piglets can filter back out to continue nursing. Weaned sows then get moved to one of the boar herds where they'll dry up, reheat and rebreed when they're ready – typically in about seven days.
North Field Finishers
The picture above is of the north field finishers taken with my Casio digital camera. The picture at the top was taken with an iPodTouch camera.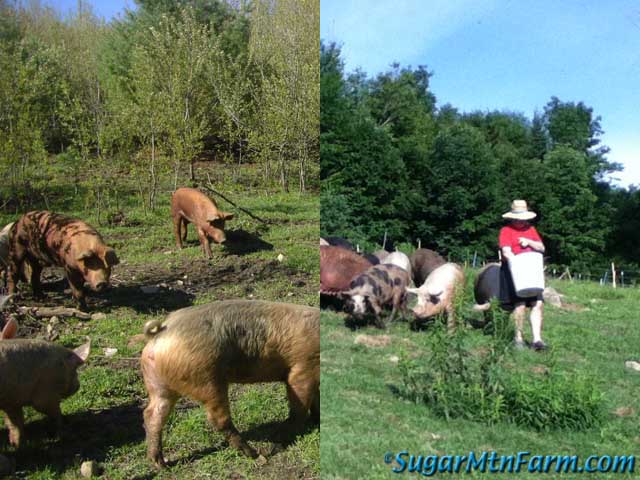 Both Photos Side by Side
Casio EX-V8 on left vs iPodTouch 4 on right
This is an interesting comparison. The lighting is the same in both photos is the same. The plantings are essentially the same. The pigs are basically the same. The trees are basically the same. I like the Casio photo on the left a lot better. The iPodTouch photo on the right seems overly saturated to me and the iPodTouch does too much compression. The iPodTouch also has less dynamic range although it is nice as it means one less thing for her to carry. Good for snap shots.
Outdoors: 77°F/58°F Sunny
Tiny Cottage: 66°F/63°F
Daily Spark: "I'm going to see if these rabbits hold water" sounds very strange out of context.