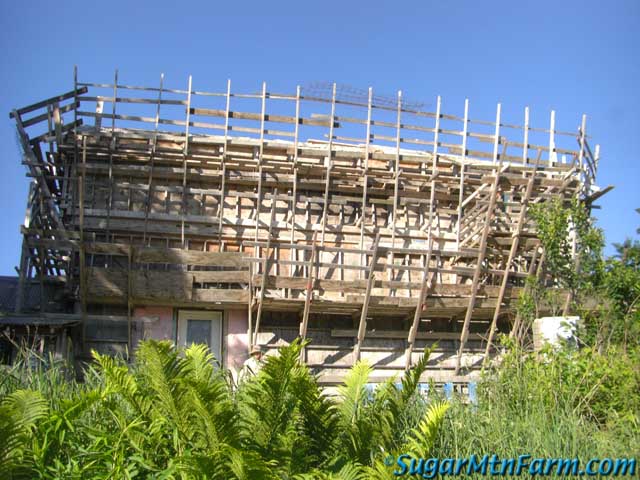 The Butcher Shop at Sugar Mountain
A recent visitor picking up their pastured pork described the butcher shop as a porcupine. It does rather resemble that with all the scaffolding.
The scaffolding is there to make working high up on the building safe. As we built ever upward we, or I should say primarily our son Ben, built a web of walkways and railings leaning out into the air so that we could easily construct forms and pour concrete.
The pouring is basically done, although at some point we'll add a bit more up top, but the scaffolding remains because we we're still doing work up high such as installing refrigeration compressors.
The dogs love the scaffolding. The building is built into the hillside in the back so the scaffolding is accessible to them. When visitors arrive some of them sweep around up high and can look down to checkout things in the front. Some like Sirius climb the ladders between scaffolds. Most of them won't jump from that height although there have been exceptions like Hagrid – The Earth shakes beneath his paws.
Eventually we'll remove the scaffolding and forms and then put stonework up the outside of the building but that won't be for a few years. In the mean time the building is a good place to store the concrete forms and the forms in turn protect the insulation.
Outdoors: 80°F/59°F Sunny
Tiny Cottage: 68°F/63°F
Daily Spark: Maybe if people from many countries can be friends over the Internet we can prevent World War III.