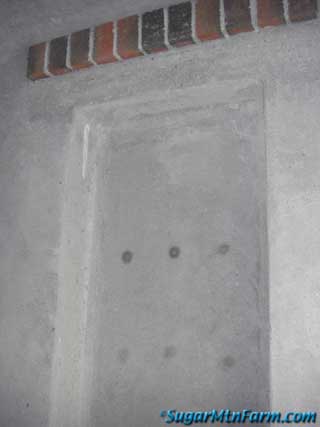 Strange Ghostly Circles in Butcher Shop
In our butcher shop hall closet six strange circles have magically appeared on the back wall. Are these ghosts trying to communicate from the beyond? What could have cause them? I wash the wall and they vanish but then a few days later they reappear. They are not organic material. Not mold.
Got any ideas? Leave your thoughts in comments and then read the answer below…
Outdoors: 79°F/50°F Sunny
Tiny Cottage: 67°F/63°F
Daily Spark: There is no proof that I am not Superman or Magneto. After all, you've never seen us both in the same room at the same time.
Answer <-- Hold your cursor over the answer for the answer but only after you leave ideas in comments...
Don't look below this line unless you're ready for the answer…
Answer backwards for people using phones to surf the web where the above trick of hiding an answer and revealing it does not work… Hold your phone up to a mirror:
Ben and I embedded super magnets in the back wall of the closet. When Will grinds metal or Ben grinds concrete they create a fine dust in the air of ferrous particles. Fortunately they wear breathing masks. The dust that isn't collected by floats around and gets collected by the magnets. Additionally our soil is high in iron so any dust from the land will also form this ghostly pattern on the magnets which shows the intensity and shape of the magnetic field. The observant will have noted that some of the magnets are donuts while others are flats. Each makes a different pattern.