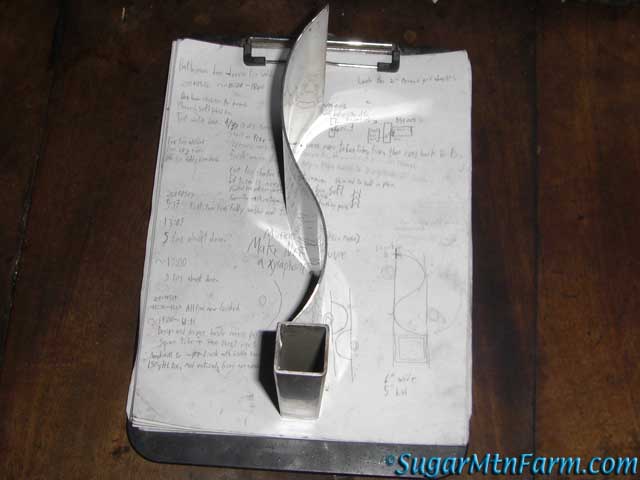 Door Handle Inset
Will is working on building his sixth door, the largest one yet. This will go on the initial cutter room, separating the clean and sanitary cutting room from the high traffic front hall.
The shape above is quite elegant and very functional. To open a door you reach into it grasping the surface mounted tubular handle. The handles for the doors are recessed so they don't protrude into the rooms as much. This is important in our nano-scale butcher shop where every cubic inch is of value.
Will is working his way up, gradually building larger and more complex things. At some point we'll need to build the 12′ tall 58″ wide double folding super insulated abattoir to chiller high rail doors. Those will be big. Those will be heavy. He'll build them almost in place and will hoist them up into place with the crane that runs on the rail. Meanwhile he is building smaller ones that only weight 150 to 250 lbs. Good practice.
Our front hall is just four feet wide. That's just wide enough to function as a hall, to pass big equipment through like the 410 lb Hobart meat bandsaw we just carried into iCutter. With that narrow a hall I don't want protruding knobs and such which is why so much is flush or even embedded into the walls of the butcher shop.
An advantage of having a hallway that is just wide enough for its function is that it does not collect clutter. There is no place to put stuff. No place for junk to accumulate. The USDA frowns very hard at storing stuff in the halls. Big halls are a tempting place to set a pallet or box. Then another… Small halls force the right behavior.
Our building is designed with this sort of forced Standard Operating Procedures in many little ways that encourage the right behaviors and discourage bad behaviors. We design our home and the farm the same way so that we and the animals are more likely to choose the right path and not leap the hurdle to the dark side of the fence. Things aren't perfect but we work to move in that direction.
Outdoors: 70°F/43°F Sunny
Tiny Cottage: 68°F/63°F
Daily Spark: Do you find buttons depressing?