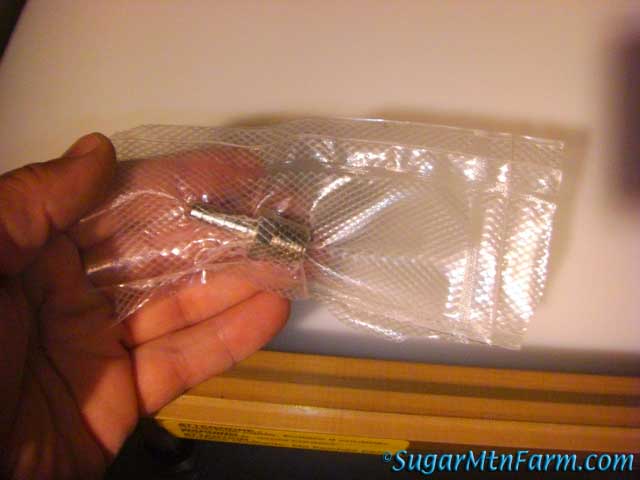 First Vacuum Packing
It's not meat but it is our first vacuum packaging. Really cool! The vacuum packager extracts 99.9% of the air from packaging to make it so the food lasts longer and stays fresher. It still needs refrigeration – this isn't shelf stabilization – but it creates a clean, sanitary, quality presentation with a minimum of packaging materials and thus less waste than plastic trays.
This was not an official meat vacuum packaging bag but rather a scrap of plastic that had come with the vacuum packer. I fashioned a little bag from a corner of it to pack this nipple as a test for the packer. Our first vacuum packing… Gee whiz!
Butcher's "Paper" would be another option, except that doesn't work in the stores and it really isn't paper. Rather the "Butcher's Paper" is a composite of paper and plastic which is completely non-recycleable.
The Hobart Meat Bandsaw 6614, Hobart Meat Grinder 4822 and the MiniPack Vacuum Packager MVS45XII have all arrived. We moved them into the initial cutting room that is currently mocked up with wooden tables and shelves. We're at version 2.1 of the mockup. Once we have it solid we'll build it out of stainless steel.
To see more about the equipment we went with check out the article Equipment Choices for the Butcher Shop.
Outdoors: 74°F/44°F Sunny
Tiny Cottage: 68°F/64°F
Daily Spark: "If I ask my customers what they want, they would say they want faster horses." -Henry Ford