Tick Off of Me
I found this tick crawling up my leg. It had not bitten me yet, and never will.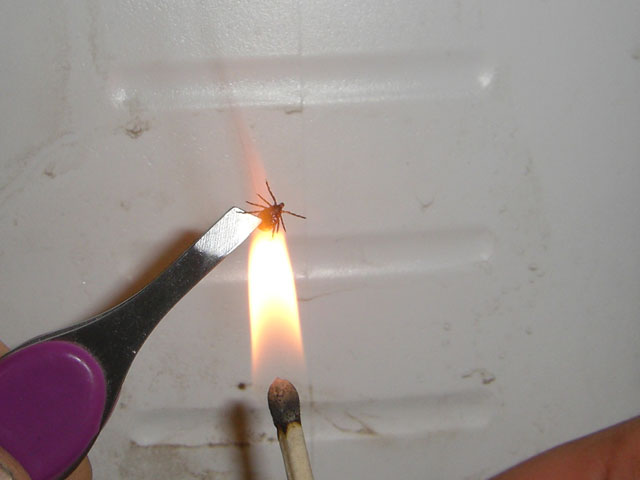 Burns Me Up
We don't have a lot of ticks. Part of that is simply our snowy cold winters. But they are out there, beyond the circle of chickens. Our hens love ticks and seem to completely suppress the the tick population in the ~1,000′ radius of their roosts where they patrol hunting for food every day.
We keep a lot of hens. The purpose is not eggs but rather organic pest control. I want them to work for a living so I don't feed them candy, that is to say commercial hen feed. Instead they must forage every day. The result is they eat lots of pasture greenery and tons of flies, ticks, mice and what ever else they can catch out on the pastures. As a side benefit the poultry produce tens of thousands of fresh pastured chicken and duck eggs which we cook to double the available protein and feed to the younger pigs where we get the most leverage.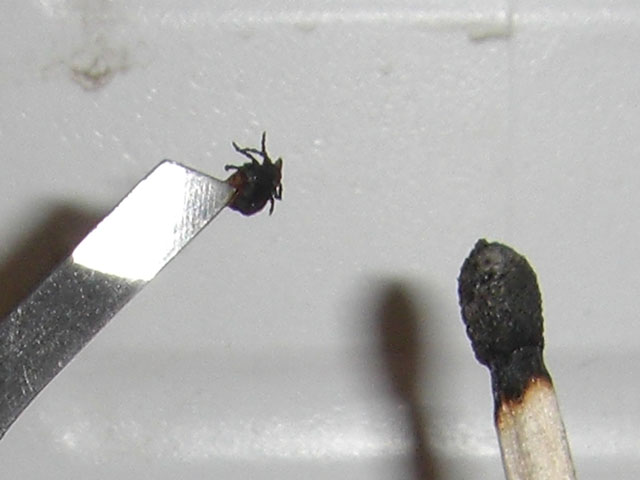 Tick Toast
Despite the chickens though there are ticks, out beyond the chicken patrol lines. This is part of the proof that the chickens work as a control. I picked up this little ugly walking through the north field's long grass. There is a
lot
of food out there. Ticks like to climb up stems of grass and then latch onto unsuspecting passing victims.
Most everyone knows about Lyme disease. There are many other diseases that ticks pass on according to the CDC web page. In the news is a nasty new one called the Heartland Virus which is being transmitted by ticks.[1, 2, 3, 4]
My solution is to increase our chicken patrols. Over the next few years we'll gradually raise our hen population from the 300 or so chickens we have now to about 1,000 to 3,000 birds spread out so they center around coops around our farm. I find that the chickens patrol up to about 1,000′ from their roost in a pattern shaped by the terrain. Using several mobile roosts I can move them around our farm to places over the year which will let them give us full coverage of the 70 acres we use for pasture.
We don't keep hens for sale of the meat or the eggs. Chickens are support staff on our farm. Around these parts I can't get enough money for the eggs to make it worth dealing with the regulatory hassle plus marketing – I've tried.
Besides organic pest control there is another reason for having more chickens. The hens produce a bounty of pastured eggs without any commercial grain based hen feed. These eggs help supplement our young pigs's diet as they transition from mother's milk to fully on pasture. One more little way that the pieces fit together in a sustainable system of pastured pork.
Note, if you're from PETA† and can't stand to see ticks torched then I recommend you eat more ticks so I don't have to post photos like this. Don't worry, the tick didn't suffer – it died instantly in the >600°F flame.
Outdoors: 70°F/50°F Sunny
Tiny Cottage: 66°F/64°F
Daily Spark: For the serious sky jumpers: Fa-Lon-Way Tea
†Peeps Eating Ticks and Anthropods