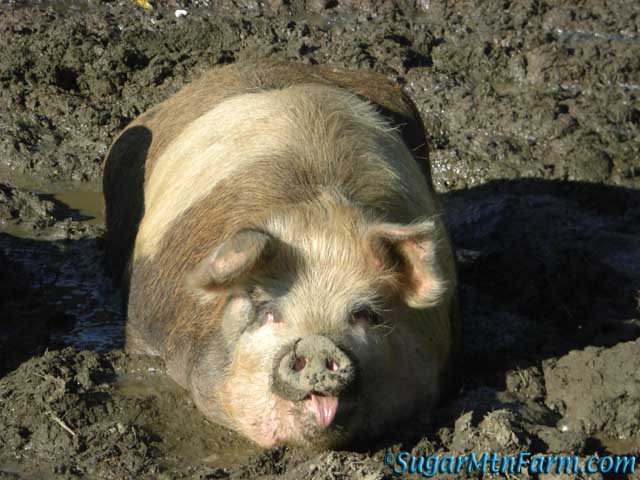 Peanut Butter Relaxing in Spa
This is one of our sows, named
Peanut Butter
, relaxing in her beauty bath on a warm sunny day. It is not uncommon to see them sticking their tongues out like this when relaxing.
Mud is very important to pigs. There is a myth that pigs are very clean animals. This is a politically correct attempt to contradict the other myth that pigs are dirty, dirty, dirty animals. Both are wrong. Mud isn't dirty and pigs aren't clean.
Pigs love a good mud bath and mud is good for pigs.
Mud moisturizes pig's skin: Pigs don't have the oil product we humans have so they have to invest in expensive beauty products to keep their skin youthful looking. This is a simple reality caused by their evolution. The mud helps their skin retain it's healthy glow which assists with all the usual reasons people put mud on their face.
Mud acts as sunscreen: Pigs are outdoors all the time and the UltraViolet in the sunlight can burn them. We don't see sunburn in our northern climate in bigger pigs but sometimes will see a little in new piglets. Even dark piglets can burn. They recover but shade is critical for pigs for this reason. Perhaps part of why the older pigs don't sunburn is they put on sunscreen, e.g., mud.
Mud kills skin parasites like ticks and lice: Pigs don't have any way to groom themselves. Not only do they lack thumbs to hold combs but they can't even bend their feet around or snouts to clean themselves. A dog, cat or primate can reach any part of their body by twisting around and even their head by using their paws. Pigs bodies and limbs are far more rigid – they'll never make it in the circus as contortionists. They don't even do social grooming although you'll occasionally see one pig lick a spot on another if there is something tasty spilled on the lickie. Pig's solution to the problem is mud bath's which coat their skin and kill pests. Different strokes for different folks.
Mud keeps biting insects off: Pigs already have pretty thick skin but a layer of fresh mud helps keep biting insects off them. An even better solution is chickens which is why our pigs have the luxury of touring with their ensemble of guard hens that not only eat up almost all the bugs within a 1,000′ radius but also provide tasty eggs for younger pigs – cook the eggs to double the available protein and resolve the biotin antagonist.jn.n1716
Mud is cooling: Pigs have very few sweat glands. Human's great innovation was sweat. We are really good at cooling our bodies with sweat. This allowed us to become long distance runners that could track and run down much faster prey by just keeping after it in tag team packs running it into the ground so it was exhausted and we could kill it for dinner. This transformed humans from mere scavengers, like pigs, into very successful hunters. The extra protein allowed for our brains to grow swelling our heads until we thought we were masters of the Universe. Pigs on the other hand can't sweat so they can't easily cool themselves down. This prevented them from this ego mistake. The mud is their solution to heat. A cool mud bath gives them a lot of surface contact with the earth which soaks out the heat from their bodies.
Mud is relaxing: No scientific data on this but if you ask Peanut Butter in the photo above she'll give you "Relaxation" as her number one reason. Just look at that face, that expression, that tongue action.
All that said, pigs are capable of cleaning off remarkably quickly. Their hair seems to shed mud so that after a roll in the hay they look spankin' brand new. In the winter they don't tend to use or want wallows, being that they're up on deep snow pack here, so they are quite clean in that season.
Pigs need wallows in the warm season. Wallows are good. Mud is good. Happy pigs.
Outdoors: 79°F/46°F Sunny, Crystal Clear Blue Skies
Tiny Cottage: 68°F/63°F
Daily Spark: Hippocracy: the ruling government for hippos.