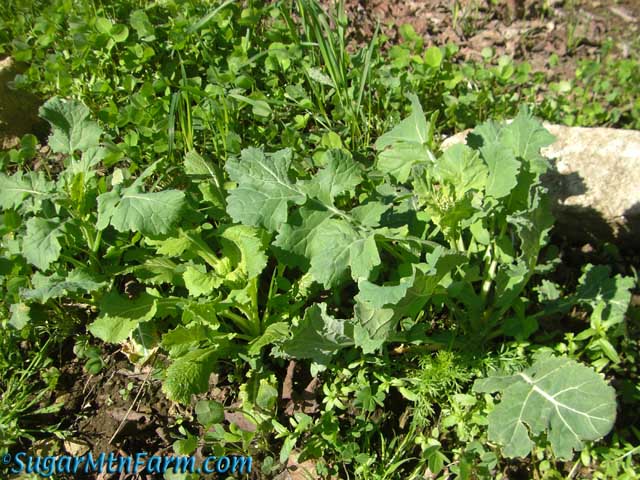 My garden is not in but my broccoli is doing great. I planted this years ago. About 20 lbs of broccoli seed on 40 acres of pasture. I planted broccoli out in our pastures because the rape, kale and turnips that I had planted a few years before were doing so nicely out there. I figured if those brassicas could do so well that I should try some more advanced types that I like for dinner. It worked. Not only did it worked it
WORKED
!
Since the pigs and I don't eat all the brassicas the plants reseed themselves. In fact, the pigs seem to avoid the flowering heads and seed pods until they're dry. The flowers are quite beautiful, attracting lots of pollinators. The roots survive through our cold winters because they're deep under the blanket of snow – we get very little ground frost since we get early snows.
In addition to feeding me on my wanderings and for dinner the field broccoli feeds the pigs. They don't destroy the plants but rather just like with the other brassicas eat a few leaves off each plant and move on, grazing rather than gorging. This leaves the tubers. They do the same with turnips. Late in the fall as the pastures wane and frosts hit they'll start to eat the tubers but there are so many and we do managed rotational grazing that they don't eat them all.
The pigs also eat the mature dried seed pods but the tiny seeds pass right through the pigs's digestive tracts and get spread, planted in piles of fertilizer around the fields. It's a cooperative arrangement between pigs and plants that benefits both.
We have a cool climate and short growing season – frost and snow can, and has, happened every month of the year here on the mountain. Brassicas are a good fit. It grows well in our cool climate, is self seeding, survives (nay, thrives) our frosts and has easily digestible protein. (Do click on that link for a fun and handy tool.)
For I walk through the valley of pastures full of self-seeding broccoli, turnips, kale, rape and clovers…
Outdoors: 69°F/49°F Sunny
Tiny Cottage: 66°F/63°F
Daily Spark: Money can't buy happiness but it can buy land so you can farm which is basically the same thing.