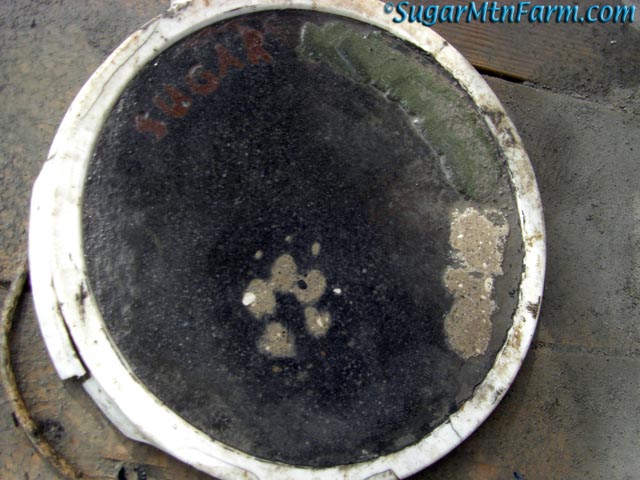 Test Patch
This was a test.
This was just a test.
Had this been a real floor patch it would be on the floor and there would be more
hand prints
. This also lacks the marbling effect I did on the floor since it was really a test of the lettering and the paw print.
The test tile was cured enough so Ben practiced grinding it. We're still waiting on grinding the hands on the floor of the entry in the butcher shop hall as we want to give them the maximum cure time but Ben has already ground to slope the rest of the floor and is now working on the covers.
Part of what's interesting about this photo is shows the stages of creation. The red words have been ground down. The green word "Mountain" and white word "Farm" still have the extra added material that went in to fill the cavities left by the lettering stamps. Grinding off the extra produces an inlay effect where the new color is embedded in the black base concrete.
Later I'll test some clear polyurea on it and maybe this print will grace these pages again.
Today is almost the last day of grinding before we clean for staining. Yeah!
Outdoors: 66°F/48°F Sunny
Tiny Cottage: 66°F/62°F
Daily Spark: People who are intolerant of dialectic differences need to travel back 400 years and find out just how poorly they pronounce…