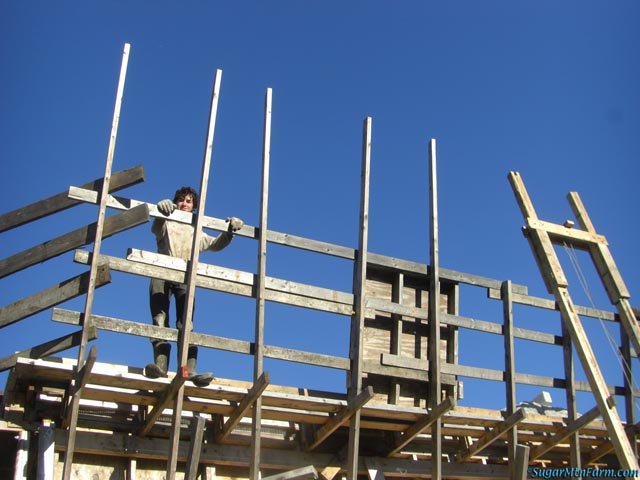 Ben on Blue Sky Scaffolding
This is just a great photo of our son Ben up on the scaffolding around our butcher shop. Ben built most of the scaffolding which kept us safe and allowed us to work over 35′ up in the air as the building gradually grew into the sky. Fortunately none of us have any fear of heights.
Work safely is our motto – Four years of construction without any accidents! I want to keep it that way so sometimes that means we go slowly and build extra supports and such. It's worth the time to do it right, to do it safely.
The butcher shop is built into the side of the mountain so that on front (road) side it is about 10′ taller than it is on the back (hill) side of the building. This makes the butcher shop look quite tall from the road but small from our cottage where we look down on it in our 'front yard'.
Over to the right you can see the hoist that Ben and Will used to lift tons of rocks and concrete up to the roof. Read more about that in the post Butcher Shop on Snow.
Outdoors: 60°F/41°F Sunny
Tiny Cottage: 66°F/62°F
Daily Spark: "Experience is a hard teacher because she gives the test first, the lesson afterwards." -Vernon Law