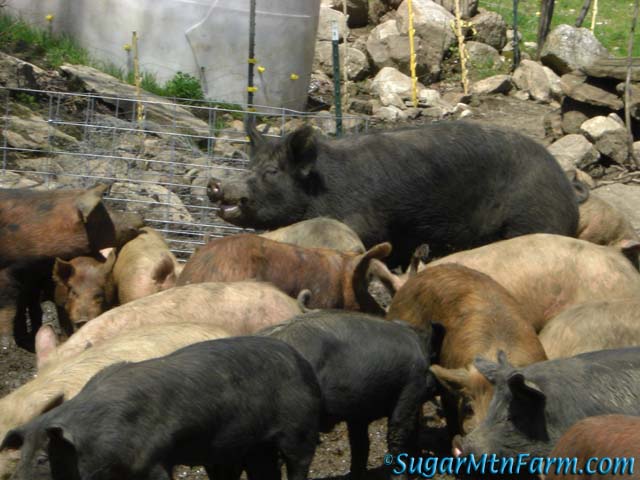 Berkshire Boar Spitz with Finishers
In the photo above Spitz, our Berkshire boar, is greeting the finisher pigs who were migrating over from the south fields where they wintered into his domain in the north. Much chomping of teeth and foaming at the mouth. Spitz was telling them all that he's the boss in the north and not to forget it. Nobody challenged his position as king of the mountain.
The finisher pigs weigh 200 to 250 lbs. Spitz is head and shoulders above the crowd. He's nearly twice their height at the shoulder, twice as long and twice as wide. I would estimate his weight around 850 to 1,000 lbs. He's a big boy and that makes moving in a new group with him easier – everyone's respectful and figures out their place right fast.
I measured Spitz this morning and he's 87″ crown to tail base (Length) and 70″ in around the chest (Girth). Using the String Method this puts him at a possible 1,067 lbs – He is coming up on his third birthday later this summer. He's tall too so he comes up to my chest – very tempting to ride although I've not trained him to saddle or bareback. Boars grow a lot faster than females so he is now taller, longer and far heavier than sows more than twice his age. Boars also put on a lot more muscle which pumps their weight up even more. This rapid growth makes boars a more economical animal to raise than barrows or gilts because they grow about 10% faster and are more efficient at turning food into meat. So what's the disadvantage to boars? Well, they can't get pregnant and they grow so fast that they eat a lot. On a high grain diet that would get very expensive – one more advantage of pastured pigs.
Spitz also has tusks and plenty of pheromones to convey his message. That's what the knashing of teeth and foaming at the mouth are all about. He's generating saliva and releasing his "He-Boar" scent into the air so that all the other pigs know who and what he is. He is so dominant to the other pigs that this is all he has to do and there are no challengers.
Once introductions were over Spitz turned around and headed out to the north field pastures, followed by his new herd mates.
Outdoors: 70°F/54°F Partially Sunny
Tiny Cottage: 66°F/64°F
Daily Spark: Carrots Your Eyes