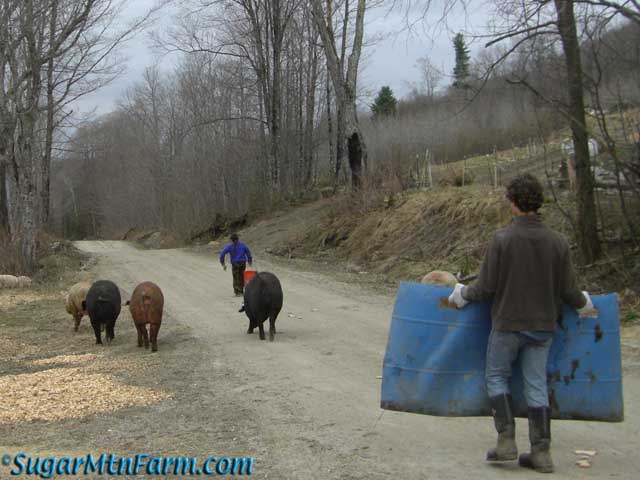 Sows Moving to Underhill
Yesterday we finished the last of spring migrations, moving late gestation sows to Underhill, one of the paddock areas in the south field. They'll have their piglets there and then move out to the lower south field paddocks to graze and raise their young ones.
Hope is laying a scent trail of small pieces of bread which the sows vacuum up as they move along. Will is walking behind with a sorting board which keeps them moving forward if they turn back.
We have little traffic on our road, about one car an hour during the day light, so heading down the road works fine.
One of the nice thing about older pigs is they've travelled the routes and know the routines. This makes moving them from pasture to pasture easier. As soon as we got to the field road up ahead the sows turned right and headed up the mountain trail. They were going home to summer pastures from their winter paddocks, glad to see the fresh green.
Outdoors: 61°F/40°F Partially Sunny
Tiny Cottage: 66°F/63°F
Daily Spark: Sign: "Will take both sides of a debate for the price of one." -Anon