Hand and Paw Prints in Concrete
Today Ben mixed concrete while I placed it in the hall. While this was a very small pour, it was very significant because it is the last concrete pour before we open. I have been putting the hall off until very late in our project because this area gets such hard traffic during construction. I didn't want the final entry hall floor getting too dinged up.
Greeting the Rising Sun at the East end of the Hall
Now we are close to finishing the butcher shop and it's time has come. Today we poured 21 buckets of concrete. Ben mixed them on our trusty old
Husky mortar mixers
with which we built our
cottage
and we used for all of the plastering and other final floor work in the butcher shop. These are real workhorses. I would like to find a source of them. The three we have are starting to wear out after nine years of heavy use. I think we have mixed 110,000 lbs of concrete with these babies. That's a lot of mixing. Ben has done almost all of it – he's the mix master.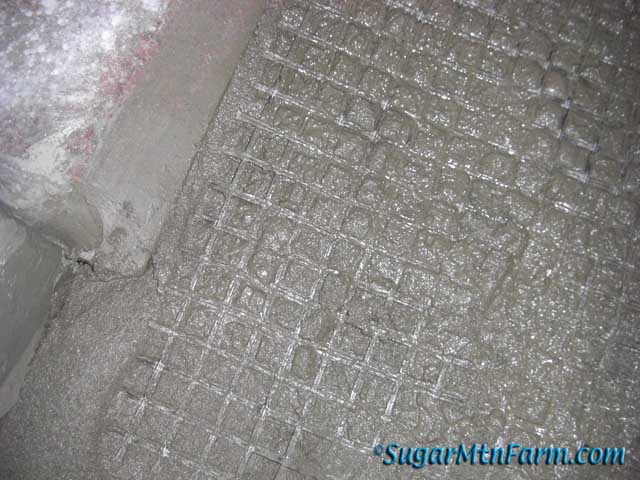 Basalt Reinforcing Mesh
The floor is actually a
ferrocement
arch over a very short
vault
that contains our plumbing. We use
basalt
mesh in this ferrocement to create the arch in layers over foam and then poured on top of that. Or perhaps I should say dumped buckets and screeded. Technically this is basalt-cement or something like that. We are not actually using any ferrous materials. But the term ferro-cement is used when discussing all sorts of built up reinforcement like this. The reason we don't use metal mesh here is that stainless steel is too expensive and non-stainless steel will rust due to the acids we use in cleaning such as vinegar, citric acid, lactic (milk) acid, etc as well as bleach.
There's a hatch in the middle of the floor for access down into the dungeon as we call the plumbing trench. In the unlikely event I need more access than that I can use a diamond bladed saw and cut up the floor. Hopefully it will never be necessary but I like having contingency plans.
For the top coat of the floor we did a charcoal pigmented concrete. I striped in bits of white, buff, dark brick red and dark green concrete. Then I feathered the concrete colors together. Even with doing all that I still kept ahead of Ben's mixing since we're down to just one Husky now. My goal is to make the floor look like the dark green stone we got from the waste pile last year. This follows the motif of the granite door sills and the bathroom marble.
Feathered Colors of Concrete and Stones to be Floated Down
I also sprinkled colorful pebbles into the surface of the contrate. We have been
sifting
these out of the sand we use for our finer concrete plaster because they pose problems there. I asked Ben to save them with the thought we could use them here. We did this in the bathroom floor too – that is already ground and came out great. Doing the shower stall floor I learned to put my stones deeper during that process as well as use a finer grinder – we kicked out a few during that grind which we then patched.
Once the concrete cures for a week in the hall Ben will grind it down to the proper profile, revealing the feathering of colors and stones. I think it is going to come out beautifully. If we don't like it though we'll paint it with an optical illusion or something. Contingency plans.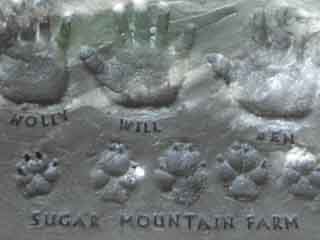 Closeup of Hand Prints
After I was finishing up with the floating and steeling of the floor we organized the laying of our hand prints by the front door. We had done a test patch earlier with Katya's help. The dogs had left their prints as they have in some spots along the way during construction. Hand prints is a traditional thing for the crew of a project and we did this long ago while working on the cottage floor.
Concrete is alkeline so we all washed our hands and paws immediately after leaving our impressions for prosperity. The dog's have left their signatures before but I don't know if they have been conscientious about washing their feet in the past since they ran inspections off hours. They never have had a problem with their paws so my guess is their pads are so thick the cement doesn't affect them or perhaps they just walked it off in the past. Either way I wanted to make sure they were clean this time.
In the picture above we are preparing to do the lettering for our names under our hand prints. We used little rubber letter stamps I found for doing this on stepping stones. I got both a serifed font and a sans-serif block font – the latter is what works better for us.
My plan is to fill the indents of the letters, hand and paw prints with red concrete tomorrow. Then when Ben grinds it flush in a week after it has cured up some we'll have nicely displayed hand prints for everyone who worked on building the butcher shop. I thought about trying to have everyone who has helped in other ways but there wasn't enough floor area. I have some other ideas on that.
Later we'll seal the floor with a clear coat of polyurea just like all the rest of the building. The coating gives the floor and stone a wet look so we don't actually have to polish it to a super fine grit. In fact, it adheres better if there is a little profile, a courser cut.
---
In other news I met with the fire and electrical inspector on Monday which went very well. We are not required to get building inspections because we are not a public building but I like getting their feedback. I picked up some great tips, little tricks of the trade. Now I can confidently forward with the rest of the wiring. Parts have been arriving while I waited and played in the mud (concrete).
See tomorrows post
about filling the
hand prints.
Progress!
Outdoors: 60°F/30°F Sunny
Tiny Cottage: 66°F/62°F
Daily Spark: It was a great revelation the day I realize that most people don't have superpowers.