Cottage Cliff
Spring has Sprung and the rock lichens are visible now that the snow is gone from the north face of the cliff outside the cottage on Sugar Mountain Farm. When we built our
tiny cottage
in 2005 we set it into a nook in the cliff face that we had carved out of the bedrock of Sugar Mountain. This protects us from the cold north winds and gives a little micro-climate around the cottage.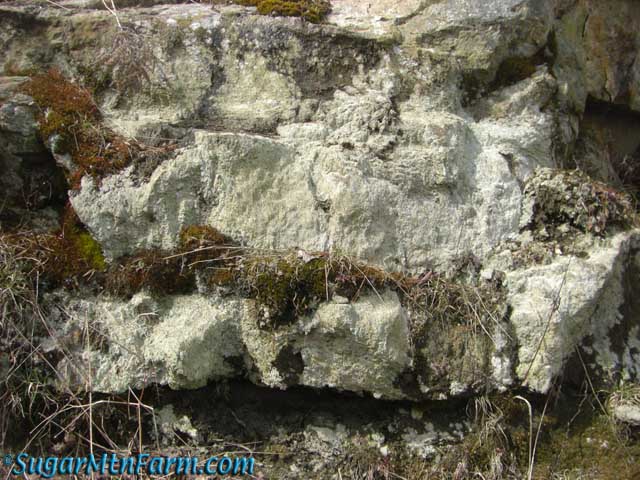 Lichens Loving the North Face
During the past nine years the rocks of the cliff face have gone from bare raw crystals to virtually completely covered in lichens and mosses as well as other growing things. It has been a fascinating transformation from lifeless to life filled.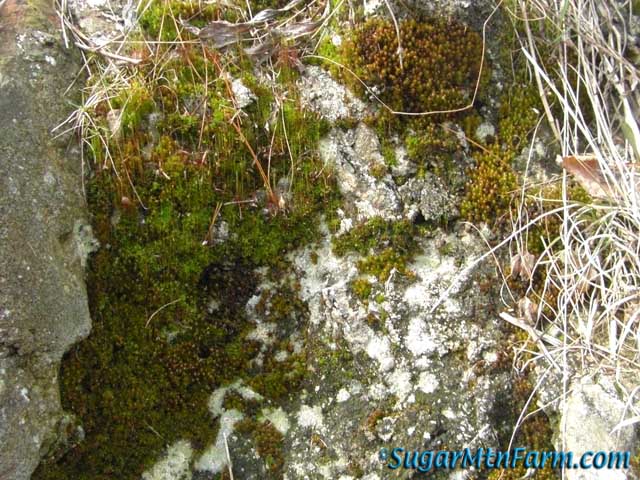 Mosses
This is the northern equivelant of the coral reefs that I dearly love to study. On the shield face rock at the top one can see long scrape marks which were left by the glaciers as they dragged harder rocks against the bedrock which they ground smooth as they shaved off the top of our mountain about 15,000 years ago. Had it not been for the glaciers I would be a lot higher.
What is truly amazing is that after the glaciers retreated they left all of the land they had covered barren and dead. Then slowly lichens, mosses, shrubbery and Monty Python fans repopulated the naked rocks. By the time our people several thousand years later New England was filled with life. The ability of life to spring back from the edge of extinction is truly amazing.
CO2 vs Glaciation Over the last 800,000 Years
Source: Wiki
The following joke has been deleted because some sensitive people don't get it.
The above graph clearly shows that the White Male Republican Big Business leaders are responsible for our past period cycles of glaciation over the past 800,000 years as demonstrated by the correlation between the CO2, global temperatures and Republican administrations in the White House during that time period. It is also suggested that loud rock music by the Rolling Stones may have had an influence in the last several cycles which could have prevented moss from growing in some places. Anyone can clearly see the obvious conclusion.
Comments who didn't like the joke have had their comments retracted to avoid embarrassment to all politically sensitive parties, genders, occupations, etcetera, etcetera. In the future I will never make another joke for fear of offending someone who doesn't get it. Not.
Outdoors: 54°F/34°F Partially Rainy
Tiny Cottage: 66°F/62°F
Daily Spark: Don't think too deeply.