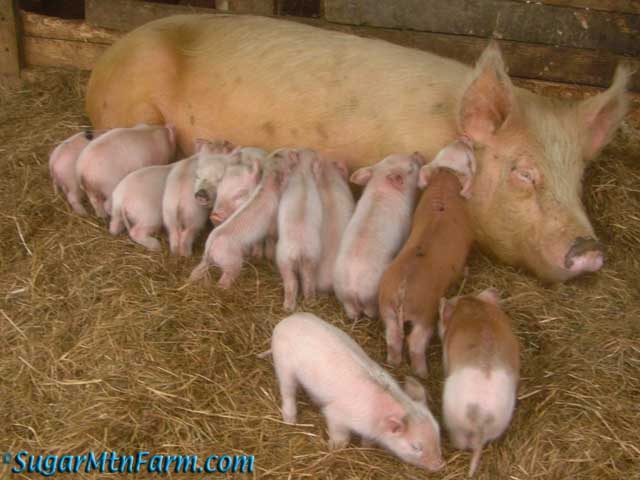 Small Sow and Little Piglets
I've previously mentioned that we keep rocks on our troughs so pigs can climb out easily. On the
Trough Repair
post Adam asked:
Just curious, is there a tank of certain dimensions that would discourage a pig from getting in? Like, how tall/narrow would it have to be in order for pigs to opt NOT to take a swim? I only keep a few pigs, so it wouldn't have to be huge. They are on pasture, and it sure would be cool to keep them with my cows, (they get along really well actually!) So if I could find a tank that would provide adequate amounts of water for all AND discourage the pigs from getting in, all would be right in one small corner of the world.
The bigger problem is the pigs don't have a choice. What happens is someone comes up behind them and pushes them in. It's a very common thing to see. As cute as piglets are, and as nice as Hollywood makes them appear, the reality is pigs are not particularly nice people. If you're in the way of their food, they'll move you.

The problem is one of dynamics: Making the trough entrance so small that the smallest pig can't get in would mean making it so small that the biggest pig can't drink. Piglets are born at about three pounds while big breeders are 400 to 1,700 lbs. The head of a breeder sow or boar is bigger than a two or three month old feeder pig. And the feeder pig won't stay small because they grow to about 250 lbs by finisher age which at around six months of age.
Fortunately pigs can swim quite well. The bad news is they can not swim forever and in cold weather will get chilled eventually. If there is no way to get out or rest they would drown.
The solution is to have a way for the pigs to get out of water and whey troughs. Thus the rocks in our feeders.[1, 2]
If all our pigs were the same size, like on a factory farm, then this would be easier to size the troughs to the pigs however we have pigs from 3 lbs piglets up to 1,700 lbs breeder boars that are 12′ long. The smallest are smaller than the tongues of the biggest. Most are in the 30 to 250 lb feeder pig range. Even that narrow range the smallest are about the size of the head of the largest.
Within some specific groups like weaner pigs we do size the troughs because there we have a small range of ages and sizes. That does work well. But still they need rocks to climb out since we use open flowing troughs. Our waterers are fed from springs and flow from one to another down the paddocks. Still water would freeze solid much of our year.
One solution is to use nipple waterers. But that only works in warm climates or in summer up here. Unfortunately nipples are made of steel and they will not only freeze solid in our cold winters but the pigs's lips and tongue will freeze to the steel. Never lick a steel railing mid-winter in these parts… I did this as a young child and lost a large piece of my tongue.
What you might do is have a drip line off our cow water tank down to a small basin the pigs can get to. I would still put some rocks in the cow tank. Here is a photo of a very low trough for piglets.
Outdoors: 56°F/34°F Sunny
Tiny Cottage: 66°F/62°F
Daily Spark: In the singularity everyone gets saved to backup.