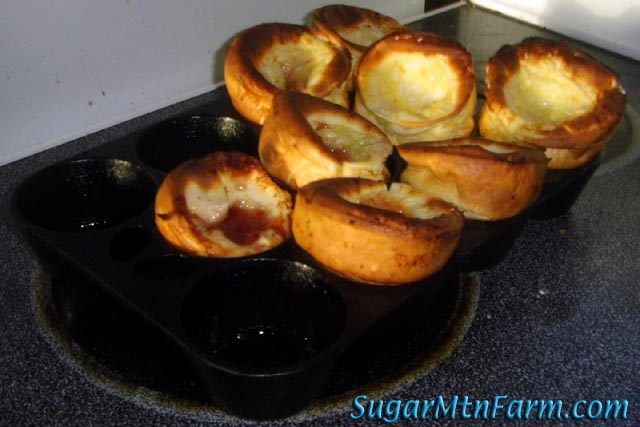 Flan
This dish goes by a number of different names such as Dutch Babies, Flan and Puff Pancakes. Rather like
Indian Paintbrush
and a-rose-is-a-rose. They're delicious no matter the name. Will makes these for breakfast perhaps once week and I love them. Usually he does the flan in a cast iron frying pan but sometimes he does it as muffins like in the photo above.
Flan in a Pan
Super Simple Flan

Ingredients:
1/4 Cup Sugar
1/2 Cup Flour
1/2 Cup Milk
2 Eggs

Optional:
Nuts such as sliced almonds to sprinkle on just after you pour the liquid into the pan.

Directions:

Preheat oven to 425°F with cast iron frying pan in it.
Drop eggs into the blender first to prevent flour from sticking around the bottom of the blender.
Add the rest of the ingredients to the blender.
Blend ingredients.
Melt 2 Tbls butter in a sauce pan on stove top and then once oven is pre-heated pour butter into pan and swirl to coat entire bottom just before adding liquid mix. Do it this way rather than melting the butter in the oven heated pan so the butter doesn't brown too much.
Cook for about four minutes to just barley solidify mix.
Use broiler to puff and brown, about 3-4 minutes.
Since the baking time is very short and different ovens can vary, watch carefully the first time you cook it.

From the Joy of Cooking, refined by Will Jeffries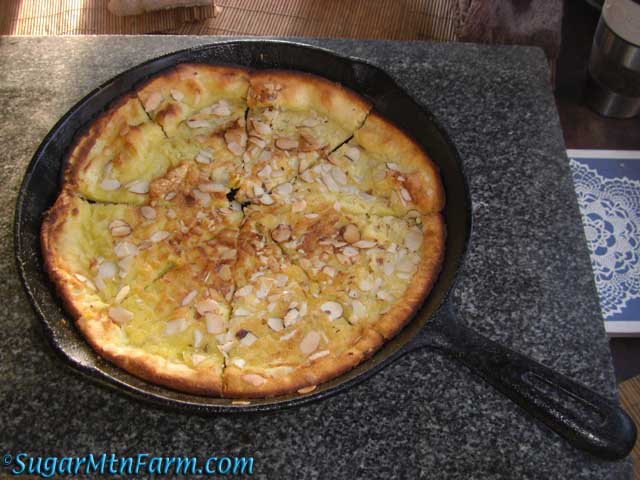 Flan in a Pan with Almonds
Delicious just as they are or you can sprinkle with cinnamon sugar, spread with jam, honey or what ever tickles your tongue.
20210615 Alternative Recipe:
Servings: 4

– 3 eggs
– 1/2 cup flour
– 1/2 cup milk
– 1 tsp maple syrup
– 1/4 tsp salt
– 1/2 tsp vanilla extract
– 3 tsp butter

Just bake 400°F for 20 minutes in preheated pan & oven. No broil. Top with fresh berries, berry sauce, whip cream, confectioner's sugar…
Outdoors: 56°F/34°F Sunny
Tiny Cottage: 66°F/62°F
Daily Spark: If you want to get upstream you had best put your paddle in the water.