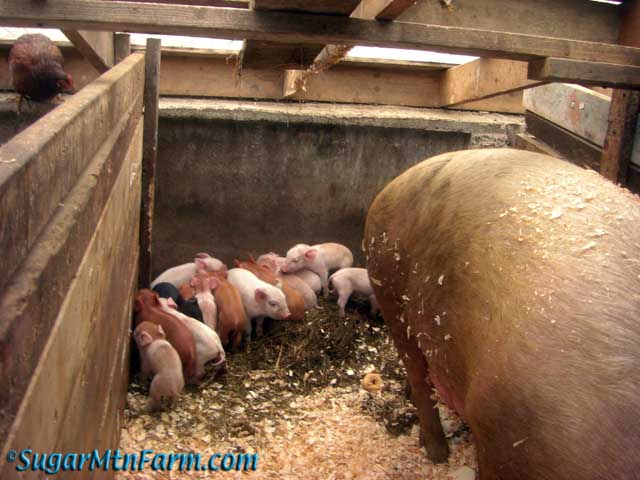 Piglets in South Field Shed
Piglets are popping out all over the place. These ones were born in the south field shed and two other litters also arrived this weekend. This is one of those times when the local pig population explodes as many sows all go at once. We had timed our matings to take a break over the winter so we could focus in the cold weather on finishing off the interior of the butcher shop. Now all those sows who have been gestating over winter are dropping piglets left and right and our pig count jumped by forty in a 48 hour period.
There are many more sows bagging up and showing signs that they'll soon be ready to farrow so today Will spent time getting spaces ready for them. They have timed the weather well as we're into the warm months and our snow is almost completely gone.
Right after a sow has farrowed we tend to add wood shavings if we want to give her dry bedding. It is important not to put large amounts of hay into a nest with new piglets. You do not have the strong jaws and teeth for chopping it up properly and you lack the pointy toes and massive weight the sows use to pack their bowl shaped nests.
A typical nest for a gilt is about four to five feet long. A big sow may have a nest as large as six by eight feet and up to a foot deep. They make it bowl shaped so that piglets tend toward the center and then sows lay down off center. See Lay-Lady-Lay for more about how a good sow lays.
Outdoors: 49°F/34°F Overcast but some patches of Sun, a little Rain
Tiny Cottage: 66°F/62°F
Daily Spark: Did you hear about the Freudian slip? It was semi-transparent.