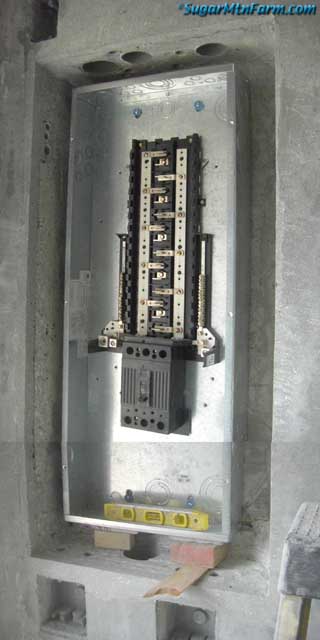 GE TM30420C
Three Phase
Breaker Panel
This week I get the main breaker panel installed as well as test installs of various types of wiring, lights, dimmers, switches and outlets so I can go over them with the master electrician I'm working with. I've done wiring, installed breaker panels and such for decades but never worked with three phase. Everyone says, "It's just like single phase" which is really split phase into two phases. But, there are oddities that I see so I have questions that simply reading about things have not answered. Thus it is nice to have someone to turn to for answers.
Picking a breaker panel system is a big commitment. There are several main companies, who've swallowed up most of the small fish. Siemens, Eaton, GE and SquareD seem to be the primary choices left. My old breaker boxes in the farm house are now orphans.
After enormous internal debate and research on the web, talking with the power company, reading discussion boards and consulting with electricians I ended up going with the GE TM30420C 200A 3-Ø breaker panel load center. It has copper busses, three phases and was the best we could afford. There are probably better choices, but I wanted to keep my first born. This is one of those 80% solutions that is Good-e-nov.

There are bolt on breaker versions which were widely recommended for commercial installations but they are outside our price range. They typically cost about 10x as much. I also read quite a few stories of the bolts loosening over time and having to be regularly retightened. The GE THQL breakers used in this unit have a very hard clip which feels very secure. They're held in by the cover plate as well. The TM30420C is a commercial version and part of that might be the rugged buss.
This is a three phase breaker box which might seem odd for me to use since we don't have three phase power from the utility. I'm going to be installing a three phase converter for some of the equipment. However, that is downstream in the Mech room. I decided to go with three phase panels throughout the building right from the start because there is a good chance that within ten years, maybe five years, we we'll have incoming three phase power at the front door. With that in mind it is better to do the panels and wires now than to have to redo all that later.
Normally these three phase breaker boxes cost $1,300. I found some TM30420C's on the web for as low as $850. I found the ones I actually bought brand new on Ebay for $200. They're the real thing – a worry with an unknown seller. They had high ratings and have been good to deal with. I ordered one unit to check it out and have now ordered more for additional installs. At $200 each they're about the same price as single phase breaker boxes but give us the ability to be ready for three phase in the future.
Note that these are NEMA-1 boxes. That means they're for indoor dry location installs. You'll notice that the box is recessed into the wall. I designed our building so that all of the breaker panels are in dry rooms rather than having them in the wet production floors. The air flow of the building is also designed to bring dry fresh air past them rather than the acid mists we use in sanitization of the butcher shop's processing room.
In addition to having the panels in dry rooms Will is going to build stainless steel outer NEMA-3R or NEMA-4 covers for each of the breaker panel holes in the wall. These will be bonded to the wall with the polyurea coating.
Layers of protection that will make the breakers last longer and be more reliable. It's also safer for us.
Outdoors: 51°F/31°F Sunny
Tiny Cottage: 66°F/63°F
Daily Spark: The voltmeter took charge.