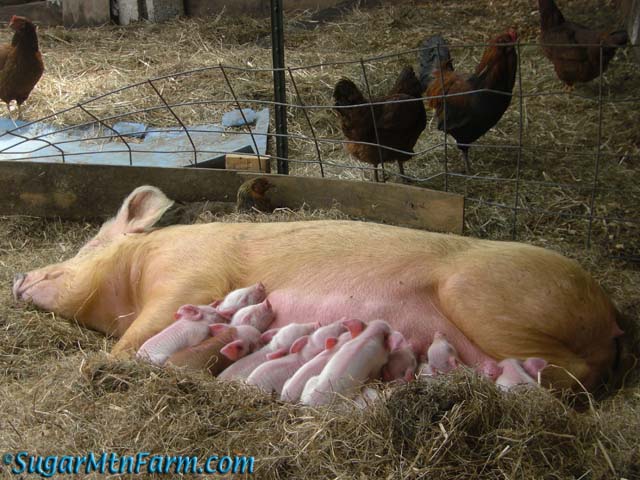 Sow with Piglets Snoozing on a Warm Spring Day
(Click for a big copy for your desktop background)
We've been having delightfully warm sunny weather. The snow is almost totally gone, just patches here and there in deep drifty shady spots.
The pigs, chickens, ducks and geese have been exploring outward in the fields, away from the winter paddocks. They're glad to see the deep snows gone and enjoy the warmth of the spring sunshine.
Meanwhile, on our Big Project we are close to being done with grinding walls, ceilings, coves, curbs and floors. Ben's the main grind man with sometimes assistance from others. I've been working on electric and have the main installed plus a variety of initial sockets, switches and outlets.
Today Will and I hung the bathroom door off of a test doorway in the cutter room. It was fabulous! This fairly large stainless steel door has just the right weight to give it a good feel as it swings on it's barrel hinges.
Ben's working on finishing up more door jambs, keeping ahead of Will.
Progress every day!
Outdoors: 54°F/30°F Sunny
Tiny Cottage: 66°F/62°F
Daily Spark: Don't stop bullets.