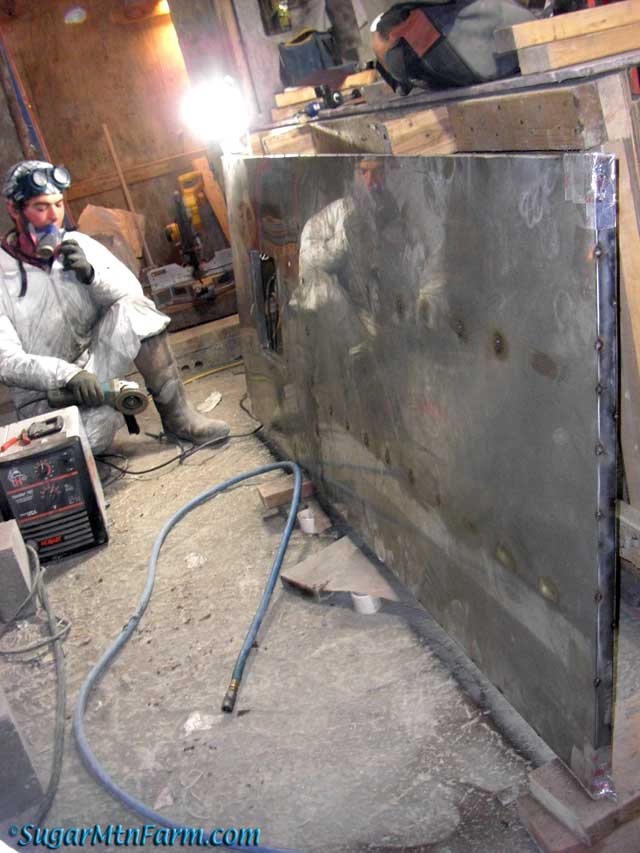 Will with Stainless Steel Bathroom Door
Will has tacked the panels to the stainless steel tube frame he built for the bathroom door of our butcher shop and is now doing the continuous welds and grinding them smooth.

Will Testing Frame
The weld-on stainless steel barrel hinges will attach on his side to the right (his left) so the door swings inward. The hole in the door at the bottom, towards Will's end in the top photo, is the one square foot required ventilation panel so that replacement air can come into the bathroom to be exhausted up the tower. Will has fully welded and polished the area around the vent hole as a test to demonstrate how the seams will come out – they're gorgeous.
We had decided to test two different skin thicknesses for the panels, using 20 gauge on the bathroom side of the door and 16 gauge on the hall side. In retrospect that was a mistake because the thicker sheet of stainless steel is stronger so it pull harder on the door giving it a very, very tiny arch. Not something you would ever notice but it is measurable. Fortunately it won't be a problem but in the future we'll avoid that. This time we had simply wanted to be able to compare the difference in skin thicknesses.
Someone said the bathroom door looks like an iPhone, it is so sleek, smooth and high tech. So why such a fancy bathroom door you ask? Simple, it's practice. The doors of the work rooms need to be very tough, durable and sanitary. I've seen a lot of busted doors at other food processing and handling facilities. Doors are expensive and good doors are much more expensive and even those don't seem to hold up well.
Most of the doors I've seen are plastic, and often broken. The best doors are stainless steel, and very expensive. For a fraction of the cost of getting regular plastic doors we can get all the equipment and materials necessary to build our own far better stainless steel doors.
For the price of commercially built stainless steel doors we can buy most of the equipment we need for the butcher shop. Learning to build our own made the most sense since we don't need them all at once. Thus the fancy bathroom door. It should last nearly forever.
Outdoors: 63°F/43°F Partially Sunny
Tiny Cottage: 67°F/62°F
Daily Spark: Bacon is why pigs.