Our Tiny Cottage in Fresh Snow – Sugar Mountain in the background
We had a delightful spring and summer this year. It got up to almost 50°F, briefly, and the glaciers receded a little so there were a few square meters of bare ground briefly visible yesterday. Fences were actually sprouting out in the fields.[
1
] And then it snowed two inches. Again.
Butcher Shop in Fresh Snow Blanket
I hear promises from other people that there is warming going on in far away lands like Connecticut, Michigan, Minnesota, New York, Massachusetts, France and even Burlington. Some even mentioned the words seedlings, daffodils, crocuses and gardening!


Eastern Ridge Road Field of Sugar Mountain
(click for big picture)
But I think now that fall may come early, or perhaps get skipped. Yesterday and the day before were almost summer like. Perhaps this will be just one of those white years. In 1995 it snowed every month of the year here on the mountain. Fortunately our tractor is painted green so we won't forget the color.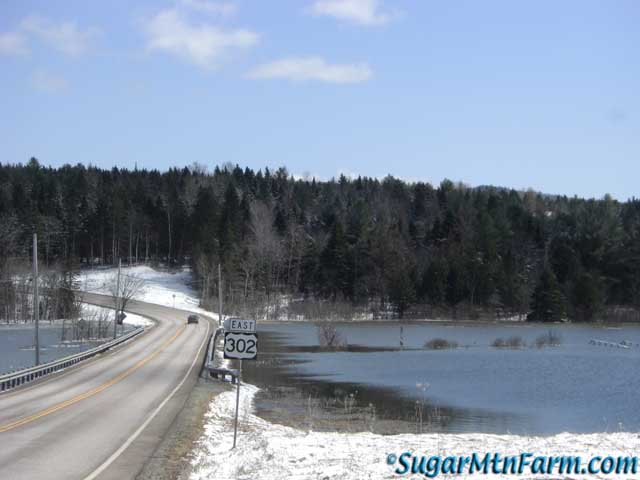 Orange Flats on Rt-302 Flooded
Rt-302 heading into Barre, VT from Orange often floods with all the water coming down from the mountains during the spring thaw. Some years the water covers the road. Most of the year this is a pair of cow pastures with a small brook going through them. Off to the
left
right
you can see a snowmobile and tractor bridge, now submerged, across where the brook is the rest of the year. This is a beautiful example of why not to build in a flood zone.
New posts you might have missed in the mess:
April Snows
Blog Updates April 2014
Firewood Borer
Exploding Dish of Color
Piglets Sunning
Hope's Gore
South Field Winter Paddock
New Piglets Nursing
Piglet & Chicken Sunning
Outdoors: 43°F/22°F 2″ Snow, Sunny
Tiny Cottage: 66°F/60°F
Daily Spark: "Multi-generation debt is totally illegal in the private sector. For evil of this mind-numbing intensity, you need a government." -Applehu Akbar's comment on SlashDot regarding the offending language which gives the Infernal Revenue Service the right without any form of due process, proof or trial to seize the assets of now adult children who's parents, grand parents or other ancestors the government claimed may have incured governement dept at any time in the past without any statute of limitation whom per Sec. 14219 of the 2013 Farm Bill where the line of regulations first appear in H.R. 6124, Food, Conservation, and Energy Act of 2008 [house.gov] which was sponsored by the greedy evil Representative. Collin C. Peterson, D-Minn. I nominate him for the wall of shame in Hell.