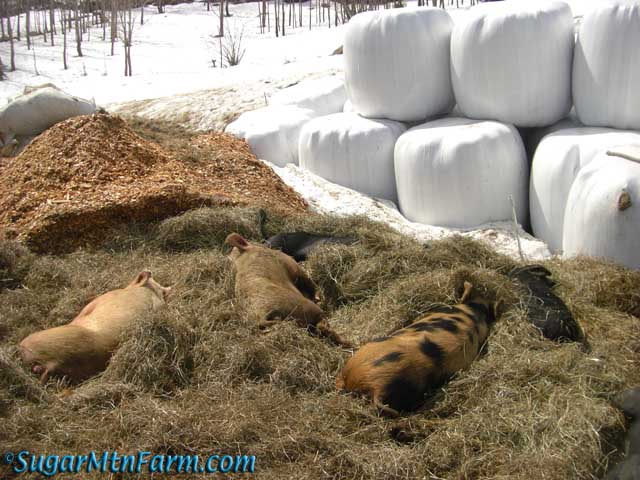 Pigs on South Field Plateau
The south field has a plateau we carved which during the summers is a one acre garden for growing pumpkins, beets and other good fall food for the pigs. During the cold season this area is a winter paddock where we stack hay bales, stock up piles of wood chips and the pigs like to sleep there.
They have sheds with three walls and roofs but pigs appear to prefer having a bright sky over them so generally they sleep out at the entrance to the sheds and on the plateau where the wood chip piles are. The deep bedding packs, both in the sheds, in front of the sheds and on the plateau, compost which produces heat from below to warm the pigs's bellies. The hay composts too and they eat both hay as well as green twigs they find in the wood chips.
We've built a number of temporary greenhouses over the years, leaving them open for good ventilation. Pigs really like those and I would like to put in a large greenhouse someday which would give us perhaps October or November conditions inside right through most of the winter. Like our past greenhouses we'll leave it open for air flow but it still tempers the micro-climate. Ideally I want this to be setup as layers within layers, rings of heaven through the cold months, so that the smallest pigs can be in the inner greenhouse. We call this the Ark.
New posts you might have missed in the mess:
April Snows
Blog Updates April 2014
Firewood Borer
Exploding Dish of Color
Piglets Sunning
Hope's Gore
South Field Winter Paddock
New Piglets Nursing
Piglet & Chicken Sunning
Outdoors: 60°F/24°F Sunny
Tiny Cottage: 66°F/62°F
Daily Spark: In the spring the soil's soft so we have loose morels but right now we've still got 3′ of snow so I ain't got no morels.