Raised by Wolves
This is a runt piglet, about a third the size of a normal piglet, which we brought into the kitchen to take care of so it wouldn't be crushed by the other piglets in the litter. Being so small it wasn't able to compete with the other more vigorous pigs in the group.
Katya here is keeping the piglet warm with her body heat which the piglet greatly appreciates. The dogs call piglets 'Baby' 'Nose-in-ground' and are very protective of them.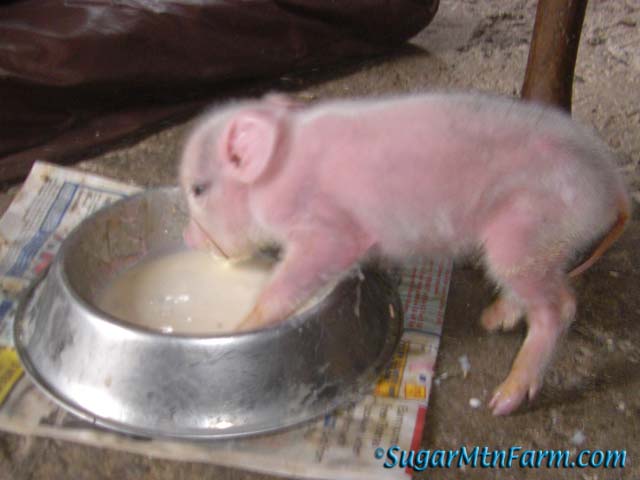 A Good Piglet Bowl
Pigs have a tendency to root at food dishes and tip them over. My solution was a sloped stainless steel dog dish so the pig doesn't catch her nose under the rim and flip it. This works well. Adding concrete under the dish makes it even more effective as they get a little bigger and pushier.
Thumbelina, as we have christened the tiny piglet, learned to drink out of the dish after two days which is very good. Until then we were bottle feeding her every few hours. That's a lot of work. Sows are much better at that sort of thing.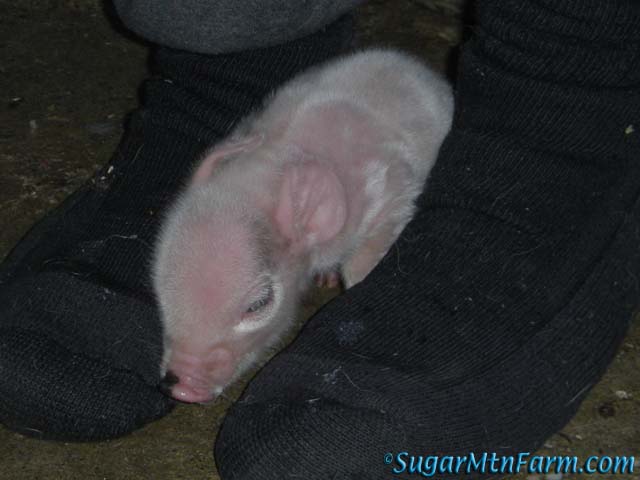 Thumbelina Piglet Snuggling on our Feet
If a dog is not available then the littlest piglet follows us around our cottage. If we stand still it steps up onto our feet and snuggles between our ankles.
Outdoors: 30°F/20°F Sunny
Tiny Cottage: 66°F/60°F
Daily Spark: What is set in stone or concrete is not immutable.