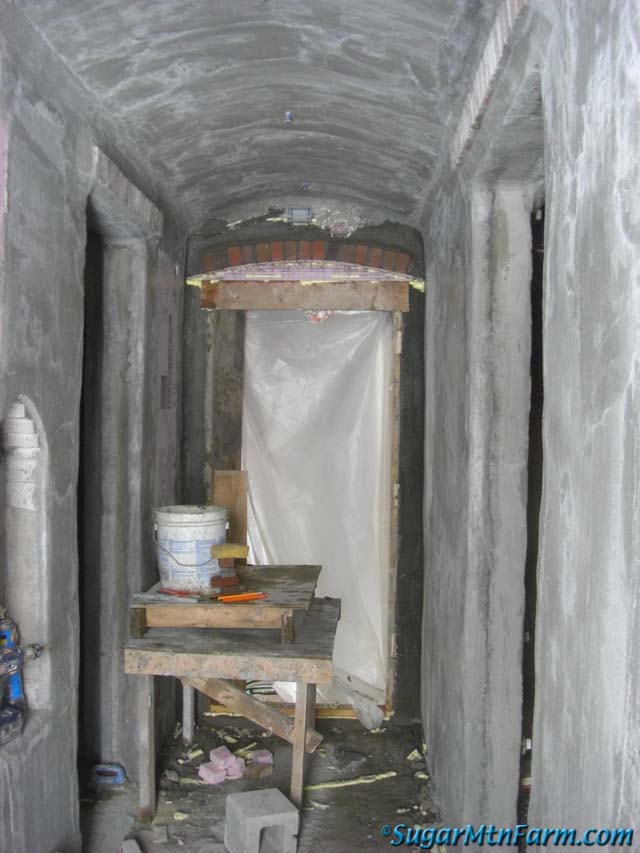 This weekend I finished the last arch, the one over the west door of the hall leading into the Abattoir. That is a total of nine arches in the hall and inspector's office. These make the facility have less of an institutional feel. The grey cement plaster will also change in time.
The doorway to the left is the bathroom. The doorway to the right leads to iCutter. In the ceiling you can see stainless steel sockets for hanging rail.
To place the bricks I used several little cheats, jigs, to make the job easier. The bricks sit on a foam arc bent to the segmented arc I wanted over he doorway. The east and west arches are segmented while the others are all flat arches. This form made it easier to get the precise shape of the arch.
Another trick was I put pencils between the lower part of the radius of each brick's arc and then tapped the faux brick, cut from the ends of real bricks, into the mortar before applying more mortar between the bricks.
Finished Arch and Plaster
Once I was done with the arched brick work Ben plastered the wall. The final wall. This marks a milestone: the plastering is all done in the initial area of the butcher shop, the Admin section which includes the hall, inspector's office, bathroom and initial cutting room. We also plastered the laundry room which is in the abattoir. It was a lot of wall and ceiling surfaces. It feels good to have them finished in a concrete plaster which should out last many generations.
There is still a small amount of concrete to do. We still have to pour the final hard coat on the floor of the hall. We've been putting it off because that area gets so much construction traffic that I want to leave it for later. Once we pour it I'm going to want to stay off it for a couple of days, cover it with protection and let it harden.
The bathroom and iCutter are now cured so the daily grind has begun.
Outdoors: 14°F/-4°F Sunny
Tiny Cottage: 66°F/60°F
Daily Spark:
The Pig said: "We are tasty and make good bacon! Take us with you and help our species thrive!"
Hmm… Interesting survival plan. Seems to work!