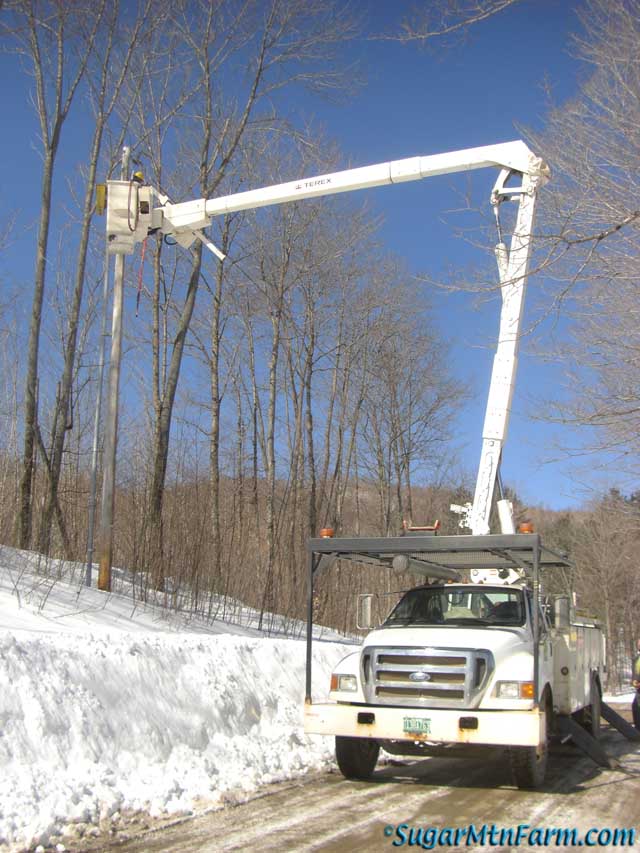 Utility Crew Transforming Transformer
The power company people came by this week to upgrade our transformer so that it will be able to provide more power should we need it. Currently we don't draw much power. Pardon the pun.
But with the butcher shop there will be some three phase motors which will have large draws when they startup and the older transformer that was there was not up to the job.
We still have split phase power, no 3Ø here, but now we'll be able to do a continuous 160 Amp draw if need arrises. We have 200 Amp service but for continuous usage the power is derated to 80% which is why it's 160 Amps.
If I were to turn all the future equipment on at once that would be a problem but we are long used to managing power – e.g., not using to many tools at one time less we brown out the system and blow the breakers. We are far out at the end of the line.
We put in our own electric but the utility guys have the right tools and skills for actually changing out the transformer so I'll leave that in their capable hands!
Outdoors: 34°F/24°F Partially Sunny
Tiny Cottage: 66°F/60°F
Daily Spark: "A dying culture invariably exhibits personal rudeness. Bad manners. Lack of consideration for others in minor matters. A loss of politeness, of gentle manners, is more significant than is a riot." -Robert A. Heinlein, Friday