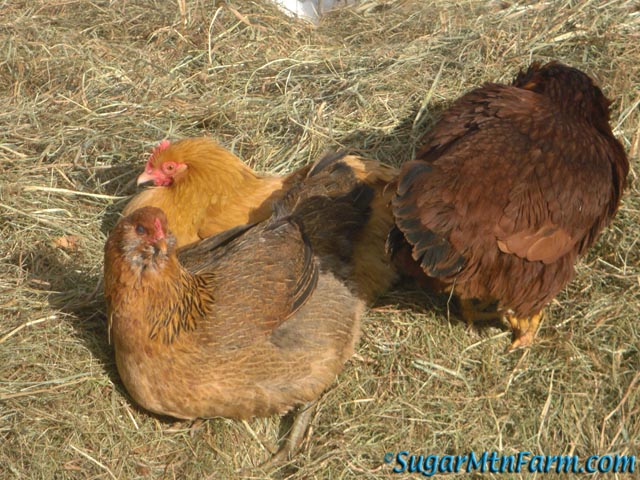 Ameraucana, Buff Orpington and Rhode Island Red Hens on Hay
These three hens hang out with the pigs on the strawberry plateau. Each group of pigs has a flock of birds who've assigned themselves as support staff. We don't sell chicken or eggs but we have a lot of chickens, as well as ducks and geese.
The poultry eat bugs, slugs, frogs and mice, clean up, break apart manure patties and smooth out the soil. They also trim the grass under fence lines although not as much as I would like. Lastly they provide eggs which we boil to double the available protein and concentrate towards the weaner and younger grower ages of pigs.
These are truly pastured eggs since we don't buy commercial chicken feed. In the warm months the chickens support themselves entirely with foraging on pasture and in the winter the chickens eat pigs and mice. The pigs we provide in the form of scraps left over from our weekly butchering. This replaces the chicken's summer diet of bugs.
---
We have burned no fire for the last day but the cottage is warm since it was a pretty sunny day. Before that we had a fire after I cleaned the ash out of the stove but before that we had gone three days without fire. The 100,000 lbs of thermal mass in the masonry of our cottage stores the heat from the sun and the morning fires when we do them so overnight fires aren't necessary and many days we don't even have to light a fire if there is good solar gain. I like thermal mass!
Outdoors: 11°F/-16°F Mostly Sunny
Tiny Cottage: 63°F/57°F
Daily Spark: All of the people in history who sought immortality have one thing in common, they're dead. -Ben Jeffries rephrasing Stephen Cave