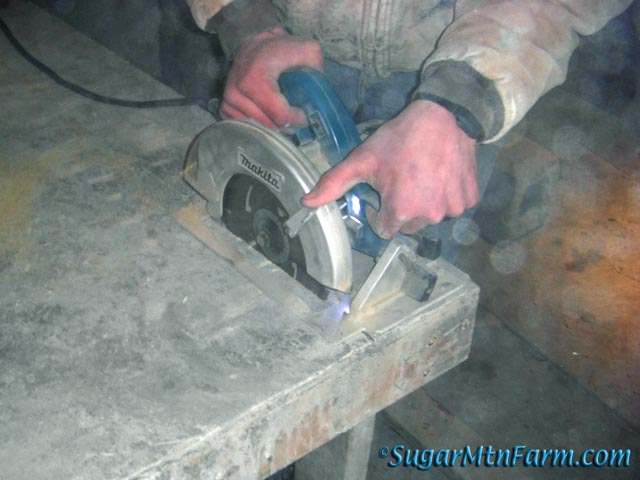 Ben Cutting Table
"Ben Cutting Table" is the title of the photo above. I'm using cutting as a verb, not an adjective. Cutting board, no. Not like carrots on the chopping block. More like, he ran the skilsaw down the table and chopped off six inches. All Greek, I know…
Why might you ask would someone ruin a perfectly good table by splitting it like this! Horrors! Ah, but Ben is a man with a plan. The table is too wide I said. Like
Procrustes
of the Greek legend Ben solved the problem of the too big table with a quick swipe of the saw.
We've been plastering ceilings and walls in the final cutting room, bathroom, office and are about to start the hall. Rather than wobbling around on ladders to reach the high parts of the walls and ceilings Will and Ben built us tables to stand on nice sturdy platforms. The problem was the big platforms we need for the rooms were too wide for the hall. Thus the saw and Procrustesian solution.
And this is why we can't have any fine furniture… :)
Outdoors: 10°F/-7°F Sunny
Tiny Cottage: 64°F/57°F
Daily Spark: Prayer of the Vermonter: The future will be far warmer. We will have to deal with high temperatures. Drier conditions. Flooding. Harsh rain storms. Then it will get cold again and the snows will return come winter.